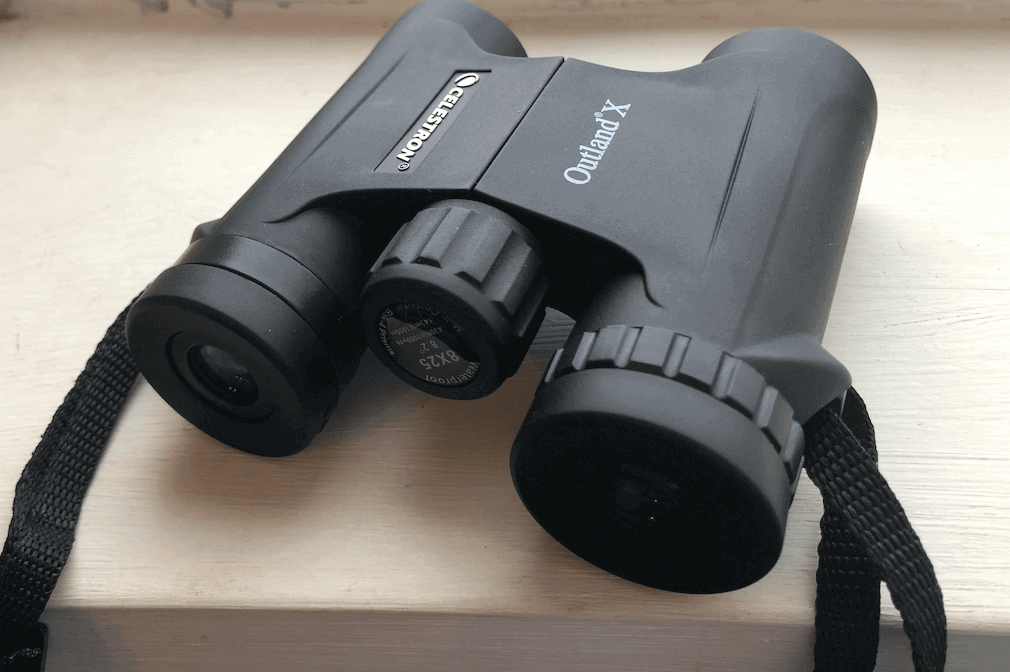 Recently I purchased Celestron Outland 8×25 and decided to write a review after trying this binocular.
After using it for some time I came to some conclusions that I believe important to take into account when choosing binoculars.
First of all, Celestron has been known in the world of optics since 1960 and has a vast experience in the field of optics.
It's based in Torrance, California but most of their products are manufactured in China to reduce the cost of optical instruments.
Celestron offers a wide range of optical instruments, such as spotting scopes, binoculars, microscopes, telescopes and accessories.
Celestron's main goal is to offer medium class optical instruments at an affordable price so most people can buy it.
Celestron medium class binoculars produce good image quality but not as good as Zeiss binoculars or Vortex or Leopold.
In fact, you always must remember that you get what you pay for.
Not all Celestron binoculars are medium class. Some are pretty expensive, such as Granite binoculars, Cavalry, Echelon, Trailseeker, Gamekeeper, Nature DX.
Celestron Outland binoculars are cheap class binoculars but still deliver good image quality. They range from $49 and up to $62.
Celestron Outland 8×25 Pros
BAK-4 prism
Good image quality
Lightweight
Wide field of view
Waterproof/Fog-proof
Stable image
Tripod adaptable
Protective rubber covering
Celestron Outland 8×25 Cons
May be not suitable for all eyeglass wearers
No Prism Coatings
Exit pupil is a bit small
Celestron Outland X 8×25 Specifications
Prism type: BAK-4
Wide field of view: 8.2 (430feet / 1000 yds)
Magnification power 8x
Multicoated optics
Eye relief 10mm
Waterproof/ Fog proof
Customer satisfaction 84%
May not be suitable for eyeglass wearers
Weight 296g
Roof Prism
Protective Rubber Armoring
Tripod adaptable
Price: $50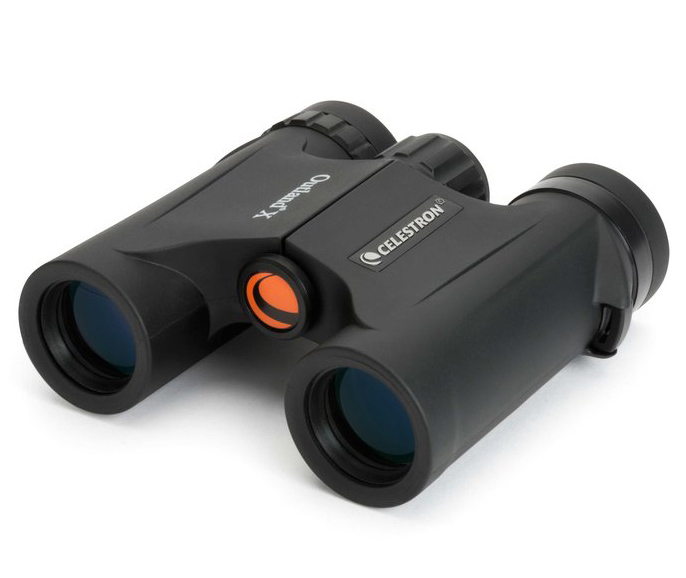 Celestron Outland 8×25 Review
Celstron Outland 8×25 is a medium class binocular with BAK-4 prism and multi-coated optics.
The binocular is waterproof and fog-proof which is very good for medium class binoculars.
Celestron offers 5 types of Outland binoculars: two compact binoculars and three standard size binoculars.
Celestron Outland X 8×25
Celestron Outland X 10×25
Celestron Outland X 8×42
Celestron Outland X 10×42
Celestron Outland X 10×50
Celestron Outland X 8×25 is compact binocular, best suitable for travel purposes.
It is 296g, very lightweight and image is pretty stable when looking through a binocular.
It causes very insignificant hand shake.

Image quality
Celeston Outland 8×25 has magnification power 8x. The binocular is pretty powerful.
Objective size is 25mm thanks to which it's super lightweight. With such a binocular you can easily view distant objects that are a few km away from you.
Image quality is good thanks to multi-coated optics but not super quality because it's not fully multi-coated and prism has no coatings.
Image is a little yellowish which some people may like while others not. I don't mean the image is bad whatsoever.
It depends on the type of optics used in the binocular. For example, Bresser binoculars (German quality) also has yellowish image. So, it's not necessarily bad.
It's simply a little different from other binoculars, such as Levenhuk, Bushnell and other brands.
Celestron Outland 8×25 has BAK-4 prism which is used in all standard binoculars, medium and high class.
Below you can see the difference in the image quality between Celestron Outland 8×25 and levenhuk Karma pro 12×50.
Levenhuk image is on the left and Celestron is on the right. If you look closely on the images you will notice some difference in the image quality.
Look closely at the wall of the building and the roof.
Levenhuk's image is brighter than Celestron's image which is a little yellowish. I personally prefer Levenhuk's image quality because it's a little brighter.
And it's brighter for a reason. Because it has fully multicoated optics and its price is around $140 which the price of Celestron is around $50.
Lens coating and prism type
Celestron Outland 8×25 has BAK-4 prism which ensures good image quality and multi-coated optics.
There is though no prism coatings in Celestron Outland 8×25 and it's not fully multi-coated optics.
That's why image is not as bright as in levenhuk Karma Pro 12×50 as you can see in the image above.
Magnification power and field of view
Field of view in Celestron Outland 8×25 is quite good and a little wider than in 10x binoculars.
In 10x binoculars you need to twist up the eyecups in order to get a clear view without back rings. In 8x binoculars you don't have to.
With Celestron 8×25 most of the time I don't twist the eye cups up when looking through the binocular.

Thanks to it I get a little wider field of view. If field of view is # 1 thing for you then I recommend 8x binoculars and Celestron 8×25 is one of such binoculars.
If it's not so important then choose 10x binoculars because they have narrower field of view but magnification is more powerful and you view objects closer to you.
In fact, we buy binoculars because we want to view objects closer which is why magnification power matters a lot.
Waterproof/Fog proof
Celestron Outland X 8×25 binoculars is very durable and waterproof and fog proof designed to be used in various weather conditions.
You can easily take this binocular when traveling without any fear.
Because if you plan to buy binoculars for travel purposes, such features as waterproof, fog-proof and compact lightweight are the most important to take into account.
Suitability for eyeglass wearers
Celestron Outland X 8×25 may not be suitable for all glass wearers because according to binoculars specifications, it has eye relief only 10mm.
For glass wearers it needs to be around 15mm. But this doesn't mean you can't use it.
Most of the time glass wearers can use binoculars without glasses because binocular's optics are designed in such a way to correct human's eye problem and compensate the eye vision.
If you have astigmatism then you probably need binoculars with eye relief at least 15mm. For more info about binoculars for glass wearers read my in-depth research here.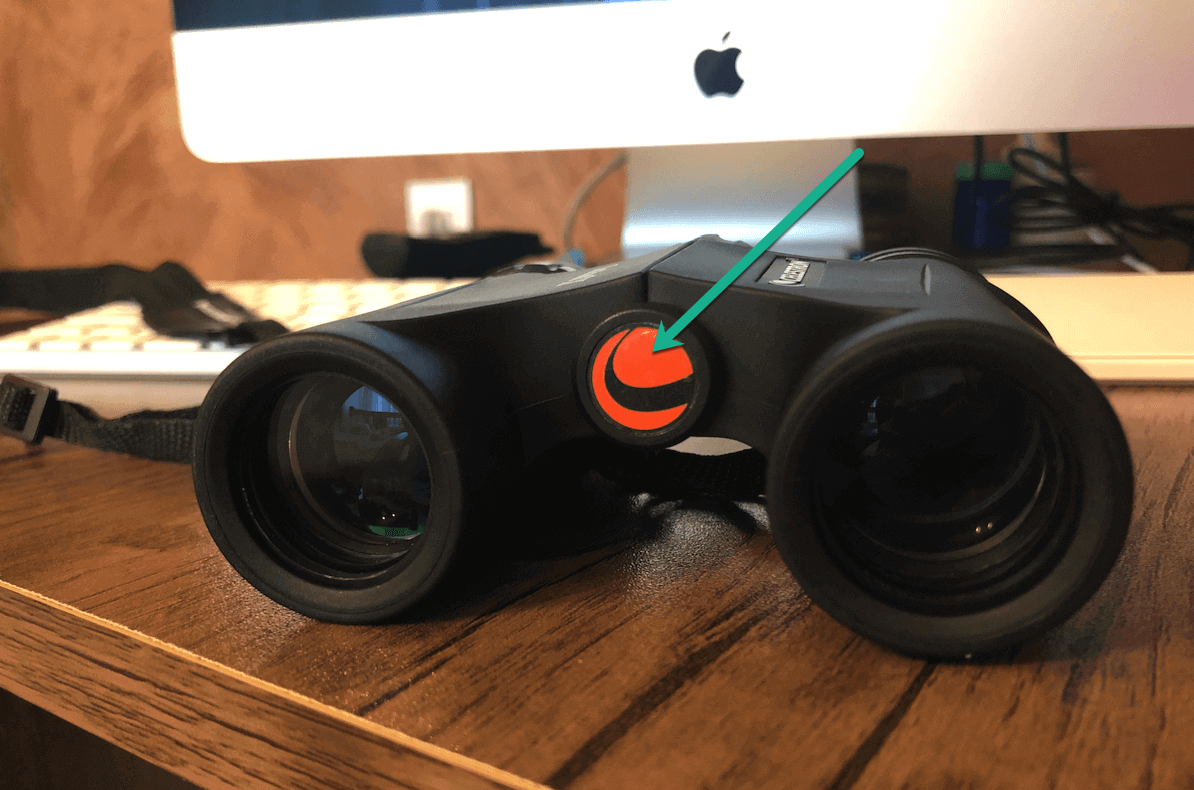 Tripod adaptability
Celestron Outland 8×25 is fully tripod adaptable. But since binocular is super lightweight, 296g, I don't think tripod is really needed.
Normally, tripod is used when binocular is bulky and you do it to reduce hand shake for image stability.
When it comes to Celestron 8×25, image is pretty stable because of the weight of the binocular.
Ease of use
Celestron Outland X 8×25 is an excellent set of binoculars suitable for traveling.
Because when traveling most people prefer to take compact rather than bulky binocular.
Generally speaking, I like Celestron 8×25. But there are two things that I would like to mention here.
First, the diopter on the right barrel is not as smooth as the central focus mechanism.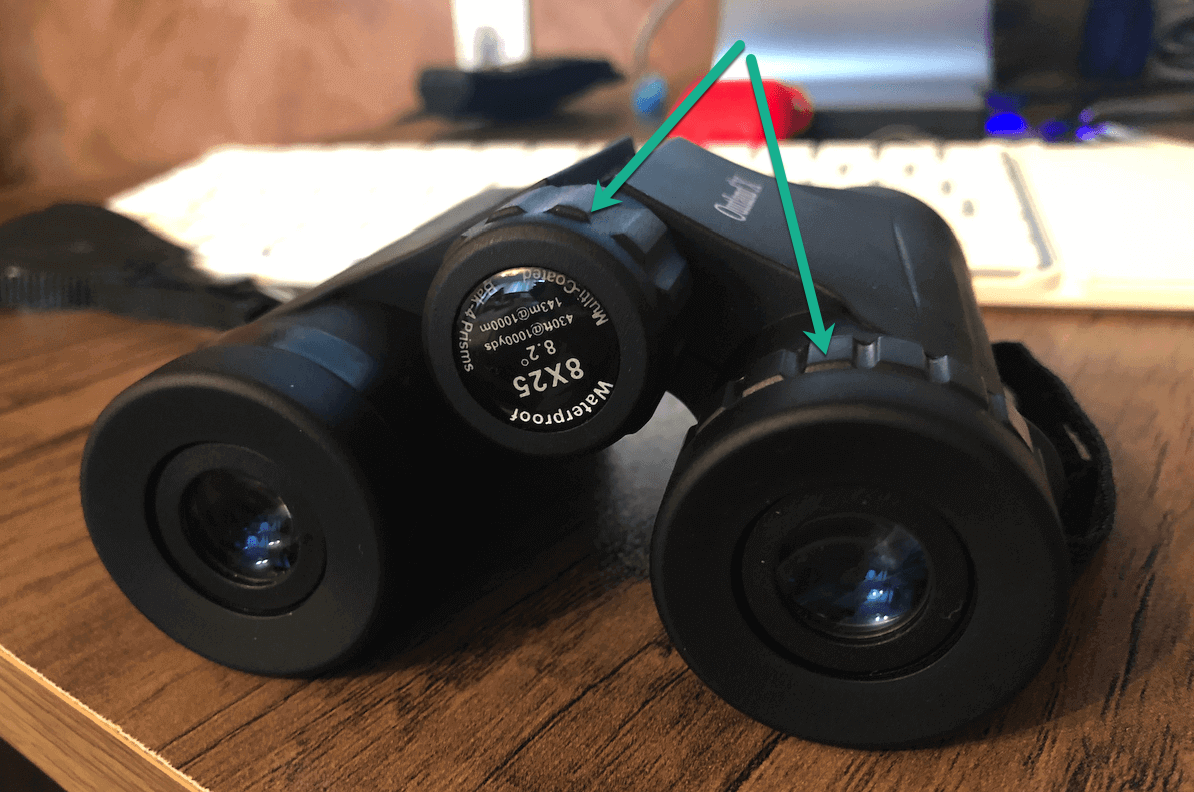 Second, exit pupil is a bit small which doesn't allow to look through binoculars as comfortably as when looking through standard binoculars.
Below you can see the comparison:
Bresser porro 10×50 – exit pupil 2.3cm.
Levenhuk Pro 12×50 – exit pupil 2.2cm
Bushnell 4×30 – exit pupil 1.8cm
Celestron Outland 8×25 – exit pupil 1.3cm
As you can see from the comparison above, looking through binoculars, such as Bresser, Levenhuk and Bushnell is fully comfortable because the smallest size of exit pupil is 1.8cm.
When it comes to Celestron 8×25, the size of exit pupil is a bit small which means the size (diameter) of the barrel is small too.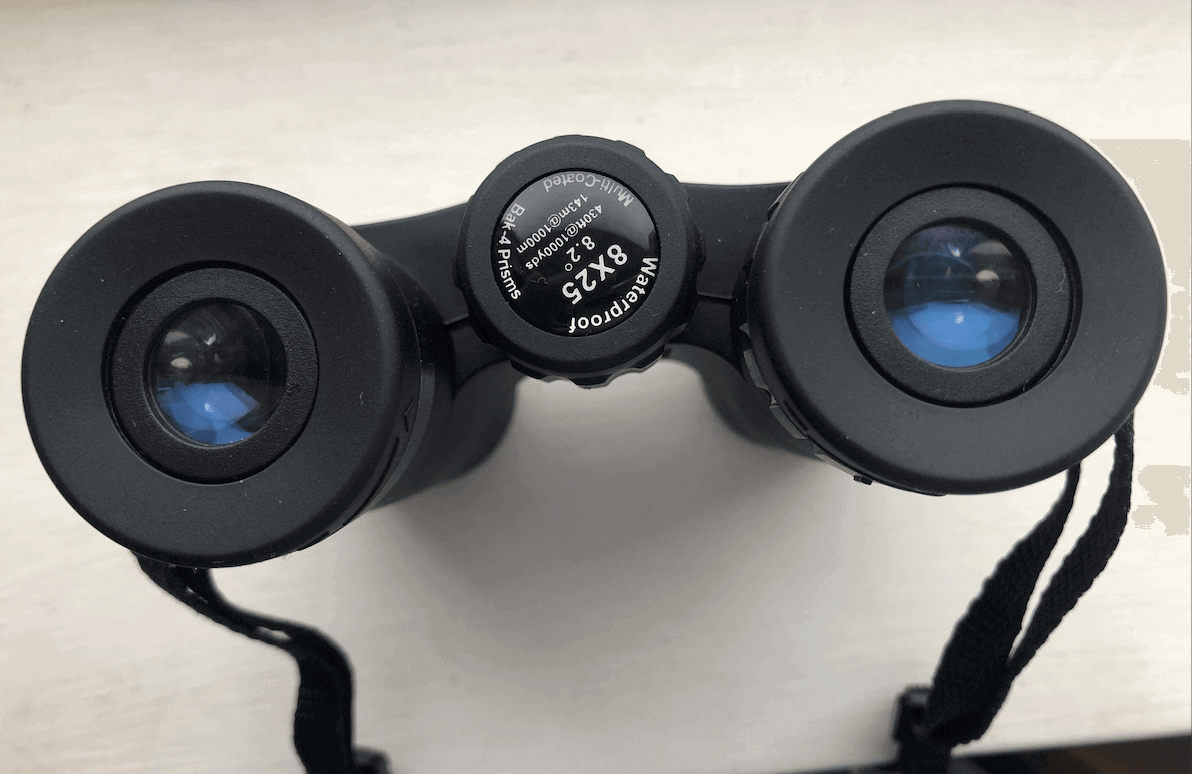 For this reason, binocular doesn't sit as well on your eyes as in case with first three binoculars.
I mean for long viewing sessions Celestron Outland 8×25 is not suitable. It's an excellent binoculars only for traveling purposes for short viewing sessions.
Affordability
I think the price of Celestron Outland X 8×25 is quite affordable for most people.
I believe it's better to pay $50 for a brand binocular like Celestron that is fully fog proof and waterproof and delivers good image quality rather than paying $25 for a non brand optical instrument that most of the time delivers none of this.
Accessories
Celestron Outland X 8×25 comes in a box that includes small case, branded Celestron strap with Celestron name on it, cleaning wipe and user guide.
The set doesn't include lens covers.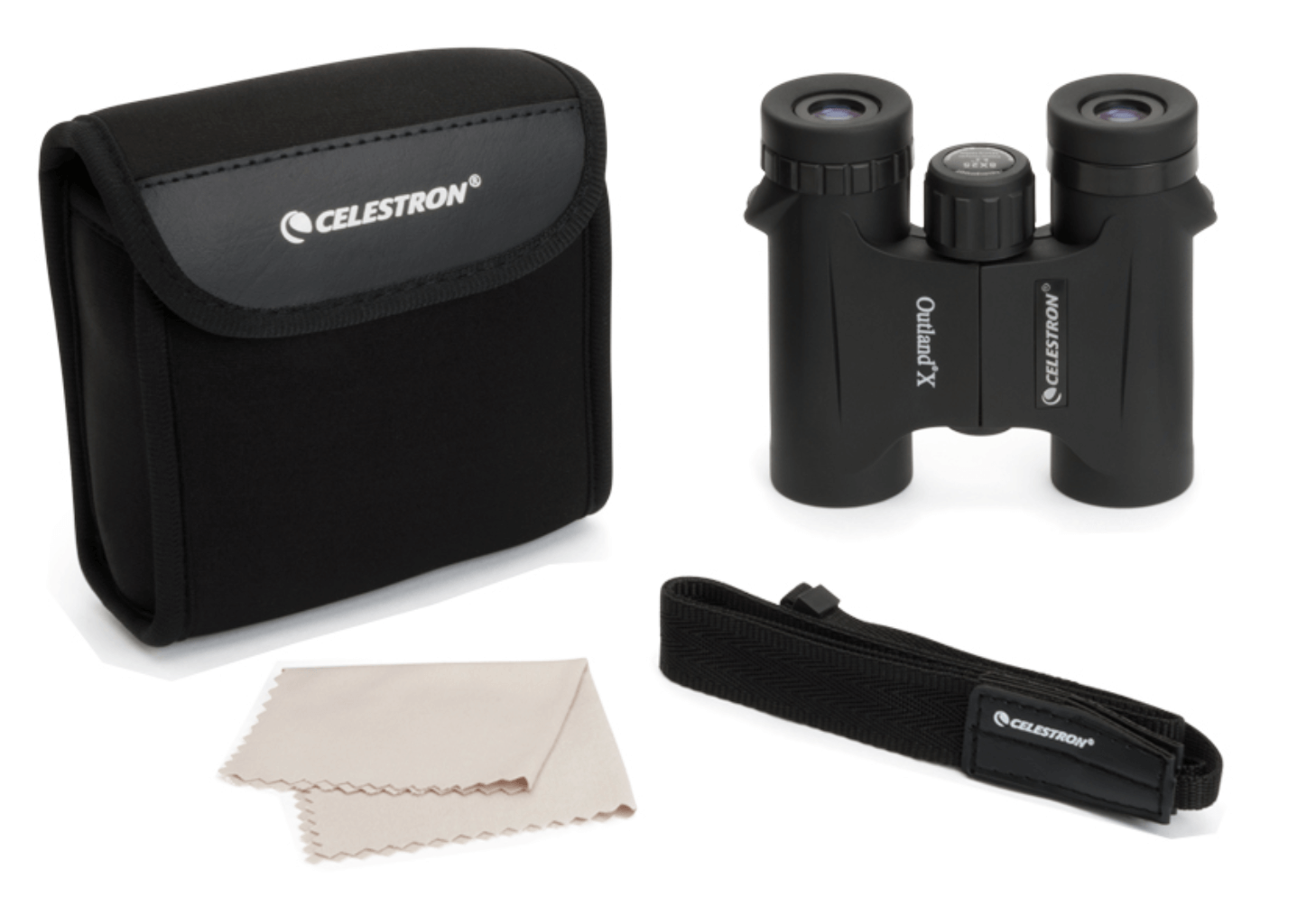 Warranty
Celestron comes with 2 year limited lifetime warranty which means Celestron will repair your binocular if any defect has been found in your optical instrument.
Once Celestron received the defective product they will replace it with a new one within 30 days or otherwise you will be informed if it takes longer than 30 days.
Overall quality of Celestron Outland X 8×25
Celestron Outland X 8×25 is an ideal optical instrument, traveling, hiking, sporting events. The overall quality of the binocular is good.
It's waterproof and fog proof and can be used in all weather conditions. It has a wide field of view and good image quality.
The binocular is highly recommended for traveling purposes for short viewing sessions or for kids.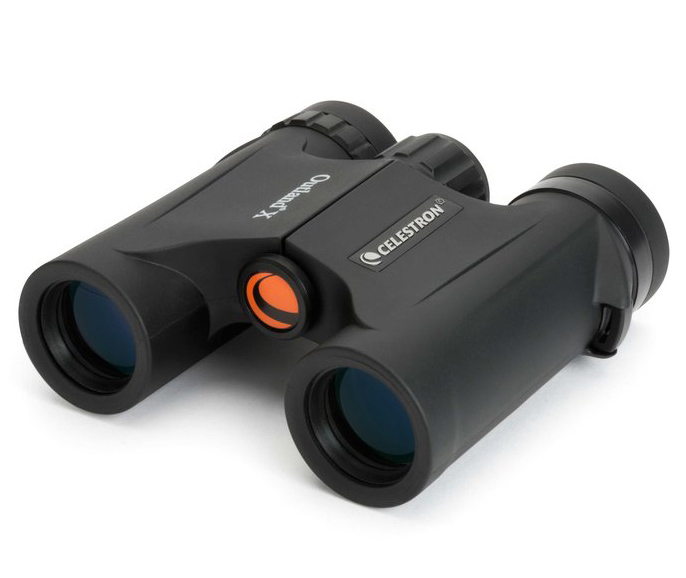 About the Author: Adam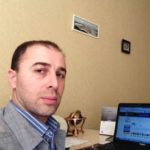 We review and recommend quality binoculars so you don't waste your money on useless ones.