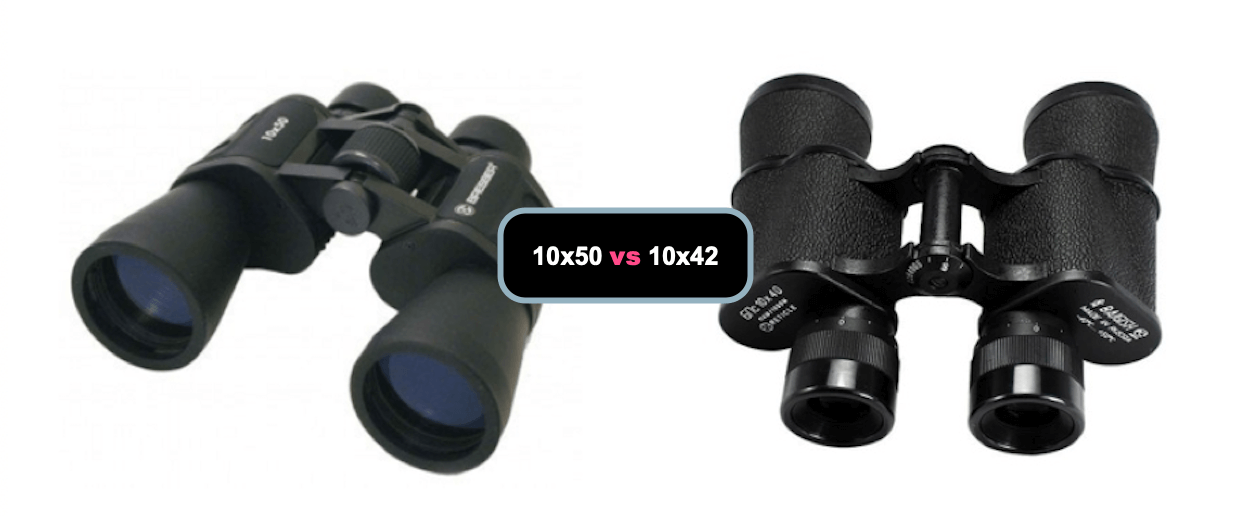 Recently I decided to do another test and see how 10×42 and 10×50 binoculars perform.
I decided to test two porro binoculars, such as Bresser 10×50 High Definition and Russian binocular Baigish 10×42.
Both binoculars are my favorite optical devices and I wanted to share my thoughts and help some of you choose the best optical instrument.
Bresser is a German quality and Baigish is a Russian product.
Let's do our research and see if these two binoculars perform well and which one is better.
• Bresser 10×50 High Definition
• Baigish 10×42
Common for 10×50 and 10×42 Binoculars
Before we get into difference aspect of these two binoculars, I want to remind you that both binoculars have the same magnification power.
In that respect, there is no big difference here. Both are porro prism binoculars and have almost the same field of view.
Even weight doesn't make a big difference.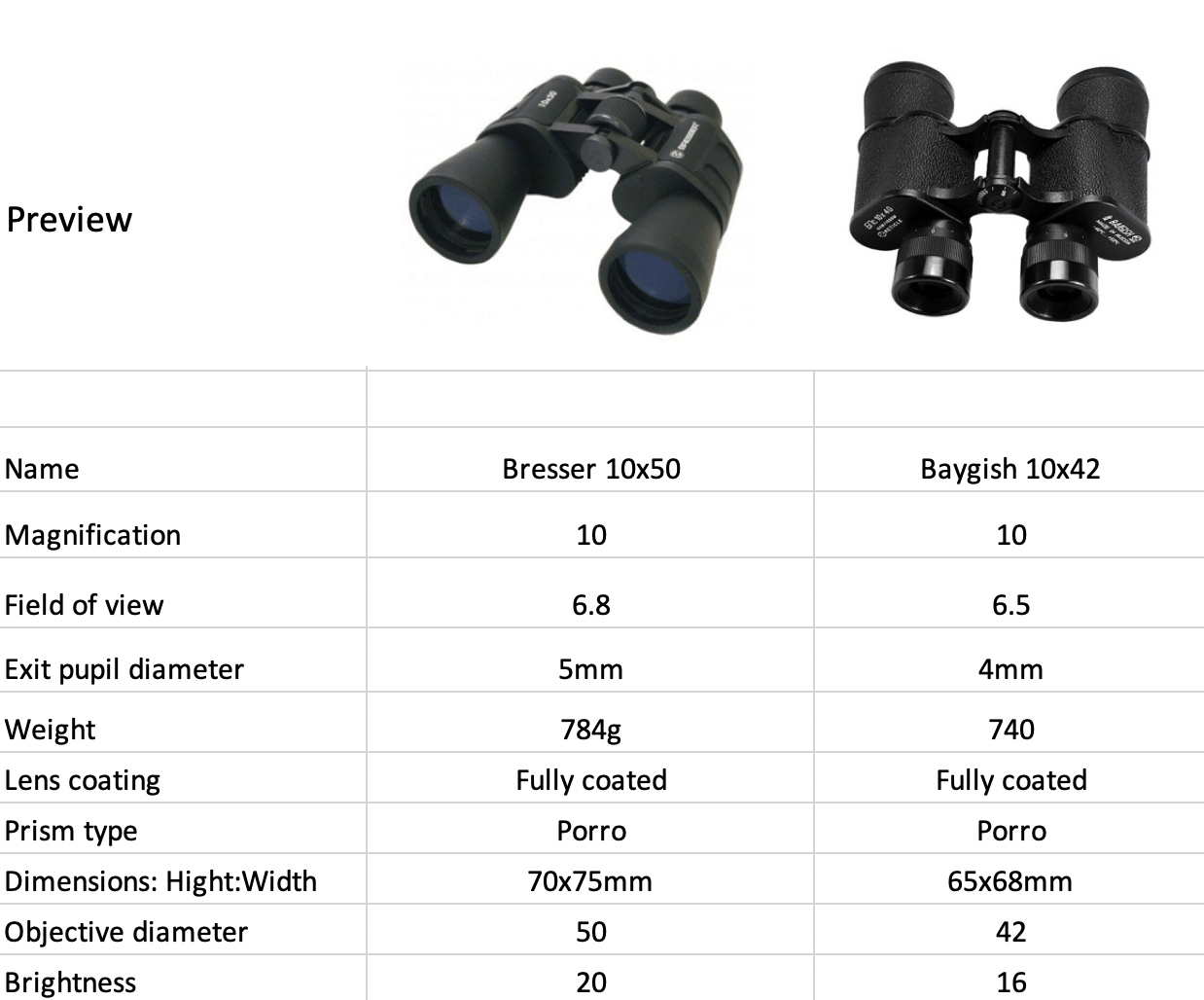 10×50 and 10×42 Binoculars
Binoculars with magnification 10 are very powerful binoculars suitable for different types of observations, such as general use, traveling, safari, marine purposes, hunting, fishing, bird watching.
It can be used even for astronomical observations, such as observing Moon. For observing planets or space stations like ISC it's not powerful enough.
For this purpose, it's better to use magnification 25 or higher.
The only main difference between these two binoculars is the diameter of the objective lens. One comes with 42mm and the other one with 50mm.
Quality objective lenses are made of special materials that makes them a little heavy.
There is some difference in weight between these two binoculars. This of course affects image stability to a certain extent.
Also, it's generally known that roof prism binoculars are more lightweight than porro prism binoculars due to binoculars' construction.
An optical roof prism instrument 10×42 is always lighter than porro binocular 10×42. The difference is not huge but there is some.
Also, size of roof binoculars is less than porro binoculars Roof binoculars are always more compact.
If image is your priority, I would recommend porro binoculars. They produce better image and are cheaper.
If weight and compactness is your priority than choose roof binoculars.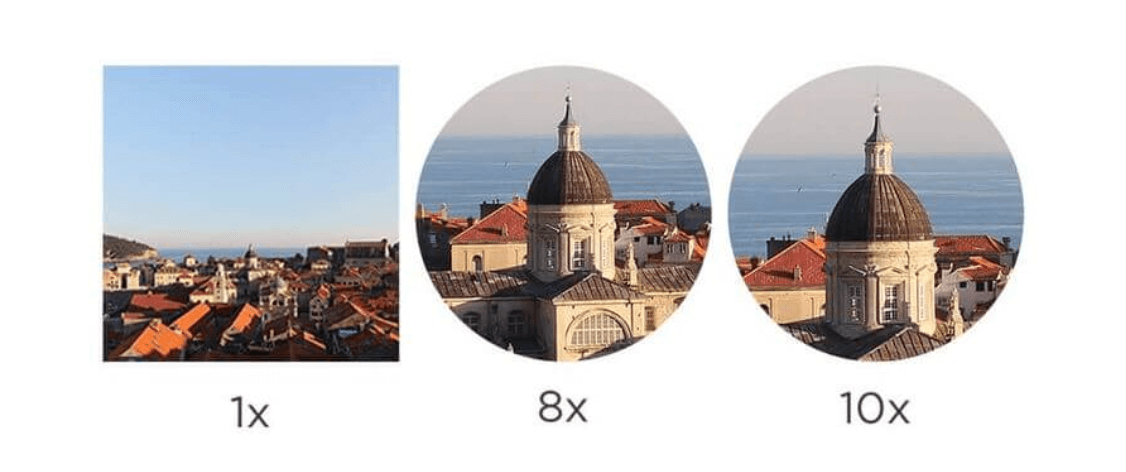 Magnification
Magnification 10 is the most often used binoculars for different types of observations.
It's an optimal choice in terms of magnification power, field of view and ease of use thanks to an optimal weight and size.
10×42 or 10×40 configuration is the best selling one.
10×30 is considered compact and also very often used but may be not suitable for multiple tasks especially in low-light conditions.
Image quality
Image quality of course is highly important in binoculars and that's why we always want to buy the best binoculars available.
Image quality in both binoculars, 10×42 and 10×50 is almost of the same quality.
Generally speaking, magnification 8 and 10 is the most optimal magnification for optical devices.
If you want more field of view, 8 would be a great choice.
If you want an optimal device in terms of field of view and magnification power, 10 would be an ideal choice.
As mentioned above, both binoculars produce excellent image quality.
Both binoculars perform very well in daytime and night conditions with a slight advantage of 10×50 due to large lenses.
Though image brightness is different in numbers, in reality when you look through binoculars, difference is not big at all.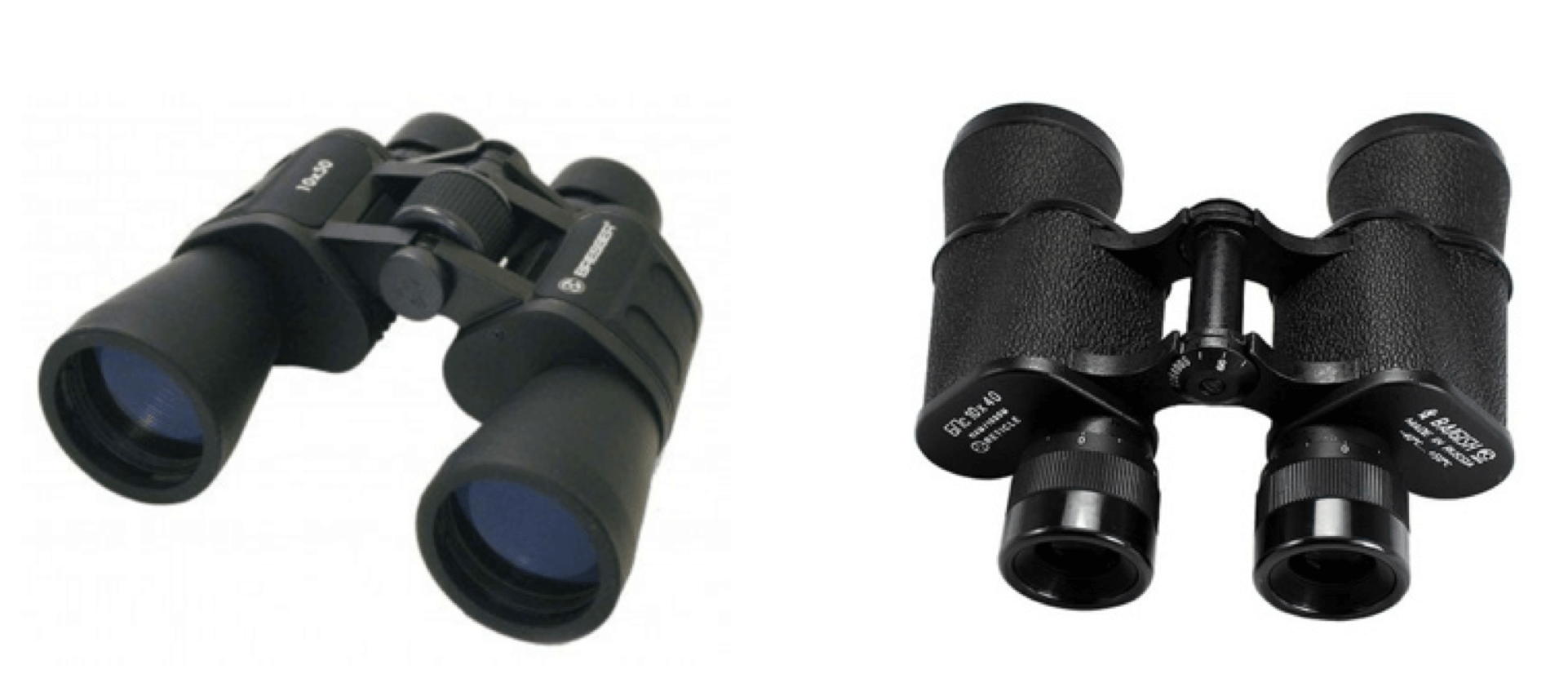 I personally prefer 10×42 over 10×50. Plus, image brightness depends on many things, not just diameter of objective lens.
Image brightness depends on the objective lens diameter, prism quality and lens coating.
It's a combination of several factors that make the difference big or insignificant. Two same binoculars from different brands can produce different image quality.
10×50 is not always better than 10×42 when it comes to image brightness. It depends on the overall quality of binoculars.
It's generally accepted that 10×50 binoculars produce brighter image than 10×42 binoculars but the difference is not big.
If your main focus is using binoculars in low-light conditions, evening time, at nights then choose 10×50.
Otherwise, 10×42 is an ideal choice for almost all types of observations.
Bresser 10×50 High Definition
• Image Brightness – 20
Baigish 10×42
• Image Brightness – 16
Field of view
Field of view in both binoculars is almost the same with slight advantage in favor of 10×50 binoculars due to larger exit pupils of the optical instrument like Bresser 10×50.
But this so-called advantage is not so significant.
Because 10×42 has other advantages that are no less important, such as more compact and lightweight which impacts positively your overall experience with binoculars.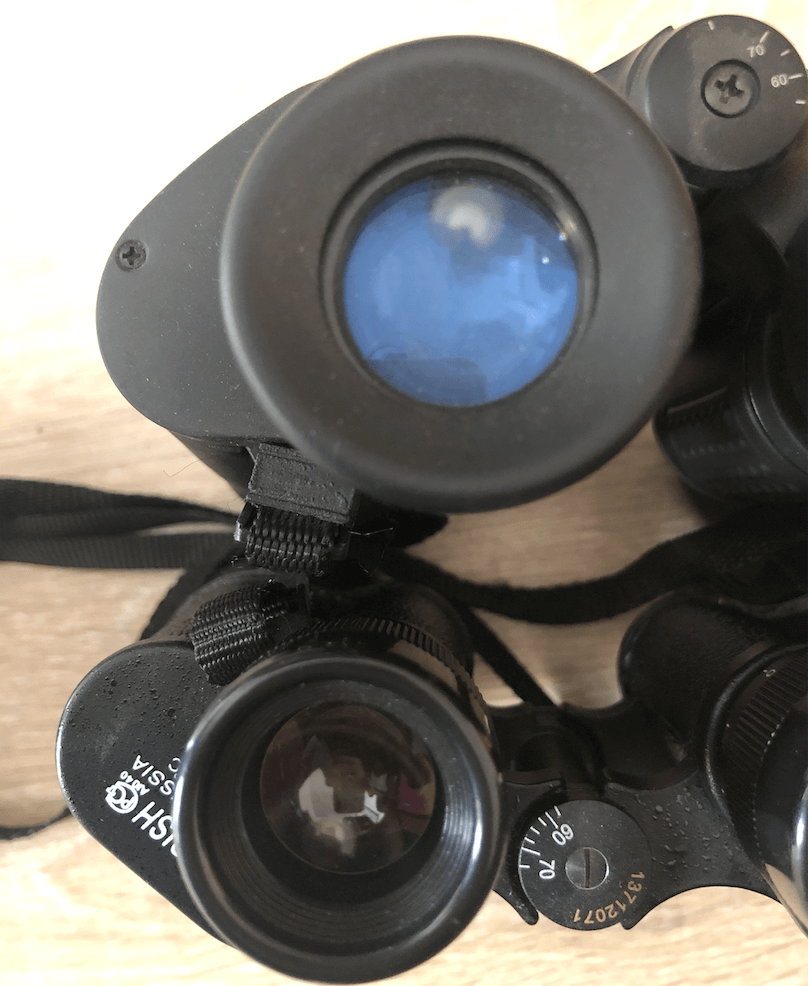 • Bresser 10×50 High Definition – 6.8° (350 feet / 1000 yds) – 5mm exit pupil
• Baigish 10×42 – 6.5° (340 feet / 1000 yds) – 4.2mm exit pupil
Weight
As mentioned in my other informative posts, weight plays a significant role in image stability of the binocular.
Image stability in binoculars with magnification 8 and 10 is pretty good though it's not perfect.
The best stability is in binoculars with objective lens 25 and 30mm. Objective lens 40 or 42mm stability is still not bad.
In binoculars with objective lens starting from 50mm and above, image stability is not as good as in 40 and 42mm binoculars.
The difference between Bresser 10×50 High Definition and Baigish 10×42 is not so big but makes some difference.
It's also depends on many aspects, such as the material binocular is made of.
If binoculars' body is made of plastic or polycarbonate chassis, the difference in weight will be significant from binoculars made of metal components.
If weight of an optical instrument is your priority, then choose one that made of light materials, not metal.
A binocular 10×50 made of plastic can be even lighter than 10×42 that has a metal body.
So, before choosing a binocular you need to check the specification of an optical instrument.
The less the weight of the binocular the better will be an image stability which is important.
• Bresser 10×50 High Definition – 784g
• Baigish 10×42 – 740g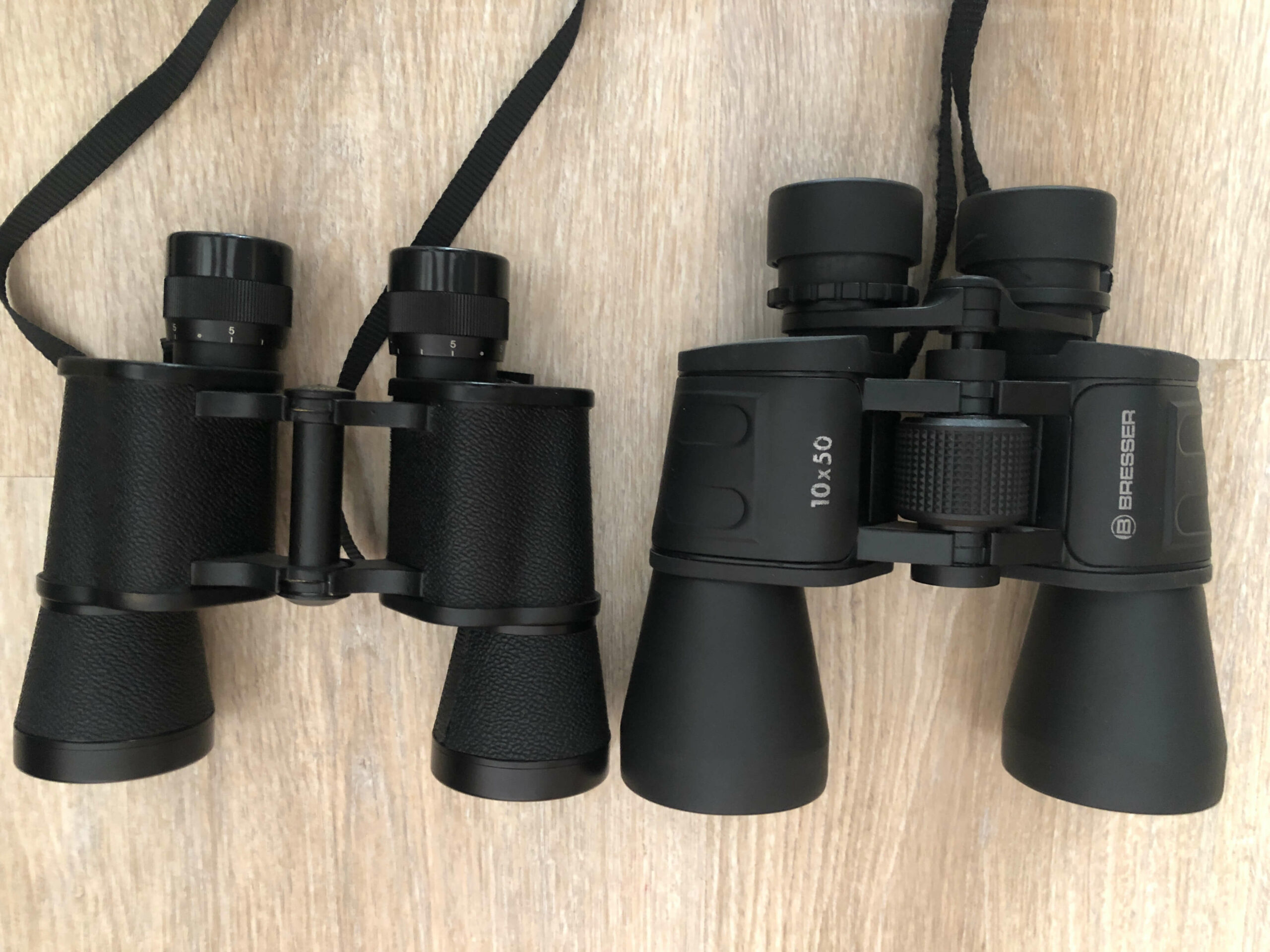 Size
Size of an optical instrument is another important aspect when choosing binoculars.
It's generally accepted that roof binoculars are more compact than porro binoculars.
Out of two optical instruments with the same configuration, one that is more compact will be the winner.
Comparing these two porro binoculars, Bresser and Baigish, the latter one is the winner.
The difference in size is not so critical but makes some difference which is why Baigish is more compact and easier to hold in hands.
Bresser 10×50
• Height – 70mm
• Width – 75mm
Baigish 10×42
• Height – 65mm
• Width – 68mm
Who is the winner?
I think both binoculars perform well but Baigish is the winner because it's more compact in size, more lightweight which ends up in a better experience as a user and better image stability.
Image brightness is more than enough in both binoculars. If you plan to use it at night and low-light conditions then I recommend Bresser 10×50 High Definition.
Because thanks to larger lenses image will be slightly brighter which makes a sense especially in low-light conditions.
Speaking about two models Bresser 10×50 High Definition and Baigish 10×42, let see who is the winner.
• Winner in image brightness: Both
• Winner in field of view: Bresser
• Winner in weight: Baigish
• Winner in size: Baigish
• Winner: Baigish 10×42 for ease of use due to weight and compact size
• Winner: Bresser 10×50 for image brightness and field of view due to larger objective lenses and exit pupils
As mentioned above, it's not a rule that 50mm objective lens binoculars always win.
Image brightness depends on other factors, such as prism type, quality of optics, lens coating.
Sometimes 10×42 can be better than 10×50 due to better lens coating or overall quality of optical parts used in a binocular.
You can't be sure until you take binoculars in your hand and test them out.
• Bresser 10×50 area of use : hunting, safari, general use
• Baigish 10×42 area of use: stadiums, hunting, Bird watching, safari, general use
I don't want to talk about price difference because it is really not big at all.
Deciding which optical instrument is best suited for your specific requirements and preferences depends on the area of use.
Once you know it there will be no problem which binoculars to choose.
About the Author: Adam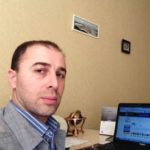 We review and recommend quality binoculars so you don't waste your money on useless ones.