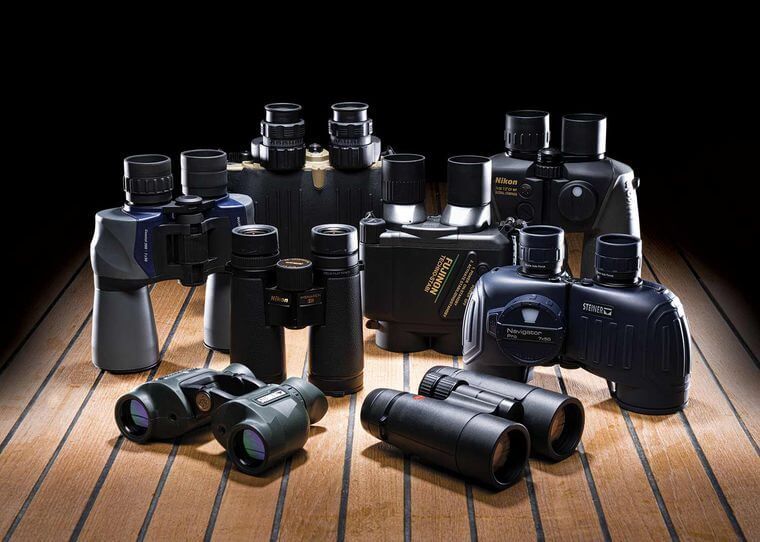 Binocular is an optical device that everyone knows about and though this topic may seem simple and not so informative, in fact, there is a lot that can be said about binoculars. Most binoculars look identical but may be very different.
You may not know but there are different types of binoculars available on the market.
Binoculars have two barrels connected to each other with a central focus mechanism. Monocular has only one barrel with diopter.
In general, binoculars and monoculars have different purposes and characteristics.
Standard (full-sized) Binoculars
Standard binoculars are multipurpose optical devices; they work well when observing wildlife, sporting events, when traveling or even for general use etc.
They may not have all kinds of advanced features, but they are universal and useful, wherever you plan to use them.
It is also a good starting point to decide what additional features are needed when purchasing next more serious device with advanced features.
Full-sized binoculars have the following characteristics:
8×40
8×42
10×40
10×42
7×50
8×50
10×50
12×50
These configurations are all full-sized standard binoculars suitable for different purposes.
Thanks to large objective lens they transmit 90-95% of light and produce bright and crystal clear, high contrast image.
They can be used both with tripod or without it.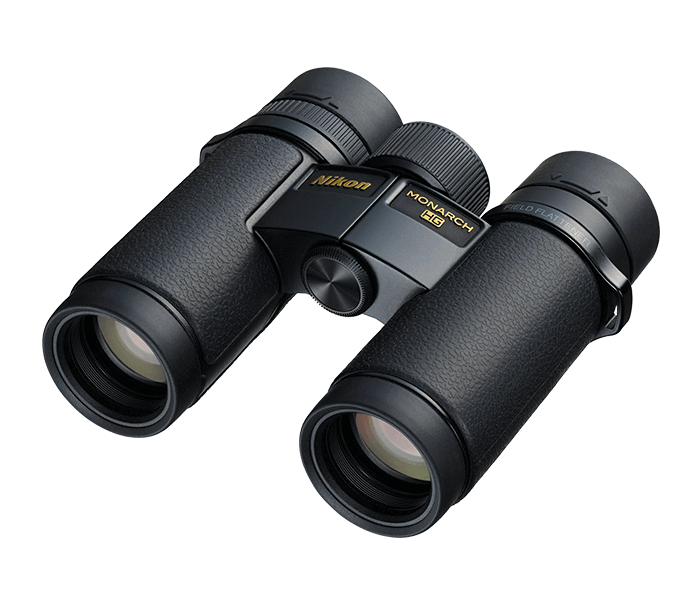 Compact Binoculars
Compact binoculars are lightweight and can fit in your pocket. Their main advantage is a small size and weight.
But at the same time they have small lenses, small magnification and an exit pupil.
They are good for quick observations when your main focus is lightweight and easy to use optical instrument.
They are good for a quick assessment of the situation, but you should not rely on them in low light conditions.
Because of a small size lenses that can't transmit light as good as full-sized binoculars do.
They are also suitable for children. Most popular sizes are:
8×25
8×30
8×32
10×25
10×30
10×32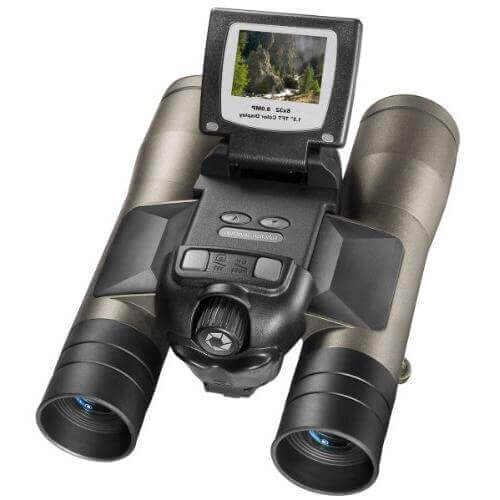 Binoculars with a Digital Camera
These binoculars are equipped with a built-in digital camera. With this camera you can shoot short videos or take photos.
The quality of both binoculars and cameras can vary greatly depending on the price.
These binoculars are usually more bulky due to digital camera and expensive.
Optional accessories may include wide-angle lenses, night-time lighting and video recording.
Some binoculars with a digital camera have LCD display giving you quick control over different functions.
This type of binoculars is suitable for travelers, hunters or bird watchers.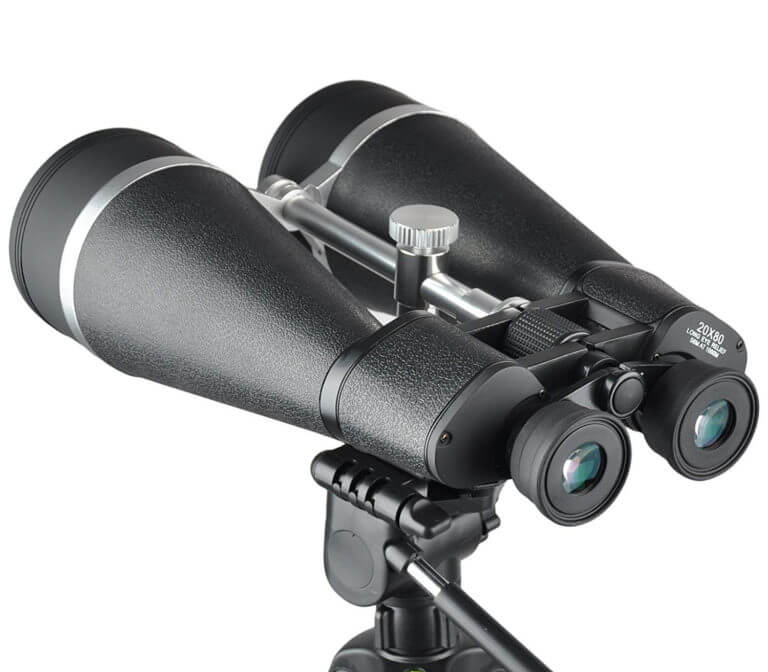 Giant or Astronomical Binoculars
Giant or astronomical binoculars are bulky or very bulky and designed mainly for observing distant objects or celestial objects.
There are two types of astronomical binoculars with objective lenses up to 60mm and up to 100mm.
Those that have objective lens up to 60mm can be used with tripod and without tripod.
Those that have objective lens 70-100mm become very bulky and need a tripod to use with them.
Because without a tripod you will get shaky and blurry image. Astronomical binoculars can be classified in two groups: cheap, medium and high class.
Cheap class cost around $100. Medium class cost from $200 to $300. High class range from $400 to $700.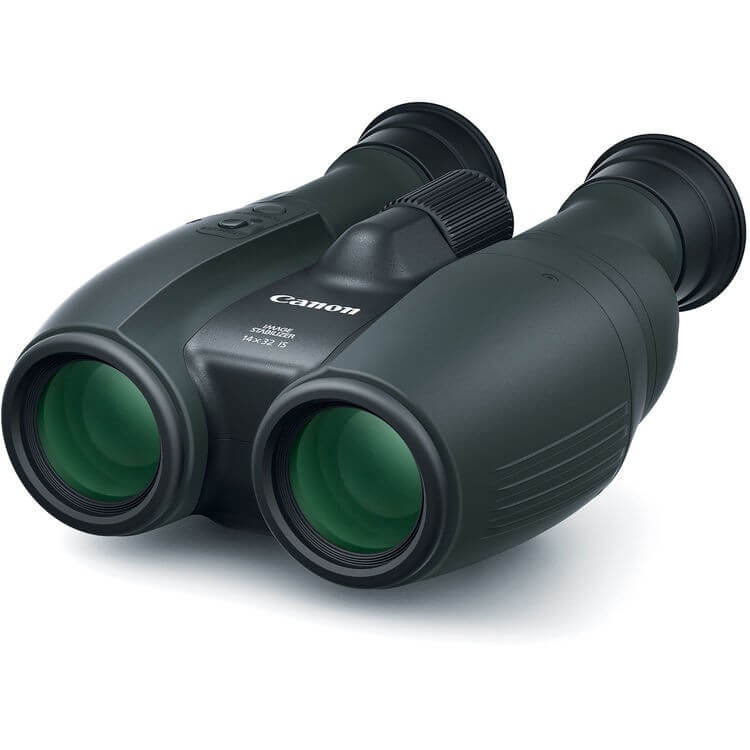 Binoculars with Image Stabilizer
Image Stabilizers (Image Stabilization Binoculars) help you cope with shaking image in binoculars when looking through it.
As a result, you get stable image with high contrast and crystal clear. This is especially useful when observing objects on the go, from a car or boat.
But binoculars with image stabilizers, of course, are way more expensive than classic binoculars. Such binoculars are offered, for example, by Canon.
They are a little bulky, but it's not a problem because thanks to a stabilizer used in the binocular you get stable image when looking through it.
Such binoculars are expensive and start from $900.
Considering that there are binoculars on market that cost $1,500 without image stabilizer, this group of optical instruments is worth the price.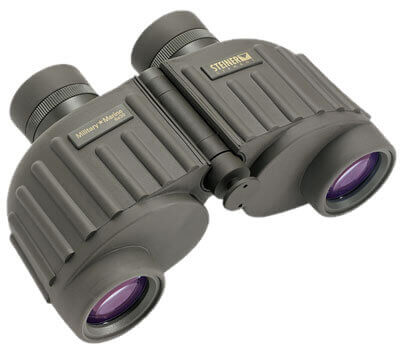 Marine Binoculars
Marine binoculars have a water-proof protection, as well as convenient ergonomic design. Some models are even floating and can stay on the surface of water if drop them.
As a rule, such binoculars are reliable enough, have large lenses to work in low light conditions, for example, at dusk or in fog.
Such binoculars are often reasonably lightweight and are equipped with autofocus feature. A classic example of marine binoculars is the Bresser Nautic binoculars.
Such binoculars often have large lenses, 50mm for transmitting maximum light. As a result image is always high contrast and bright.
Marine binoculars often have a magnification power up to 8x and are equipped with digital compass.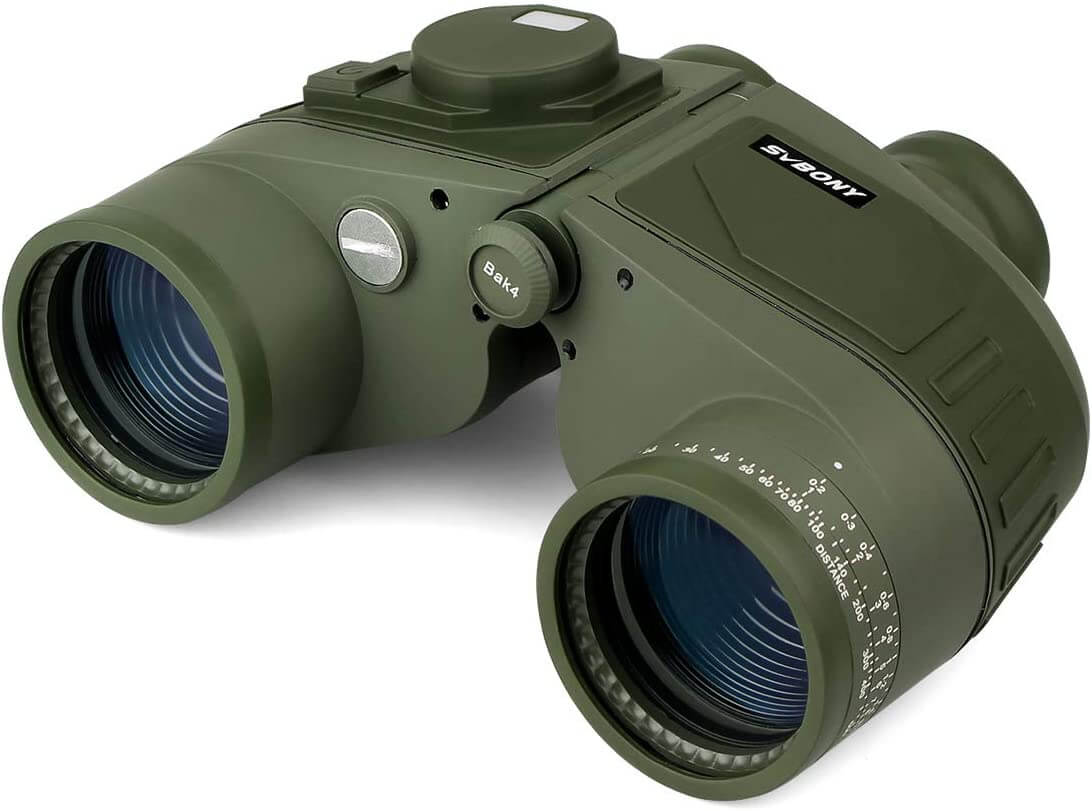 Military Binoculars
Usually this is a very reliable binocular, with a sturdy body and can withstand bumps and drops.
Often protected from moisture, dust and internal fogging and have high-quality optics.
Military binoculars are often equipped with a built-in compass, night vision device and have rangefinder feature.
Most of the time military binoculars are porro prism that are different form roof prism optical instruments.
Because image produced by porro prism binoculars is a little 3-dimensional.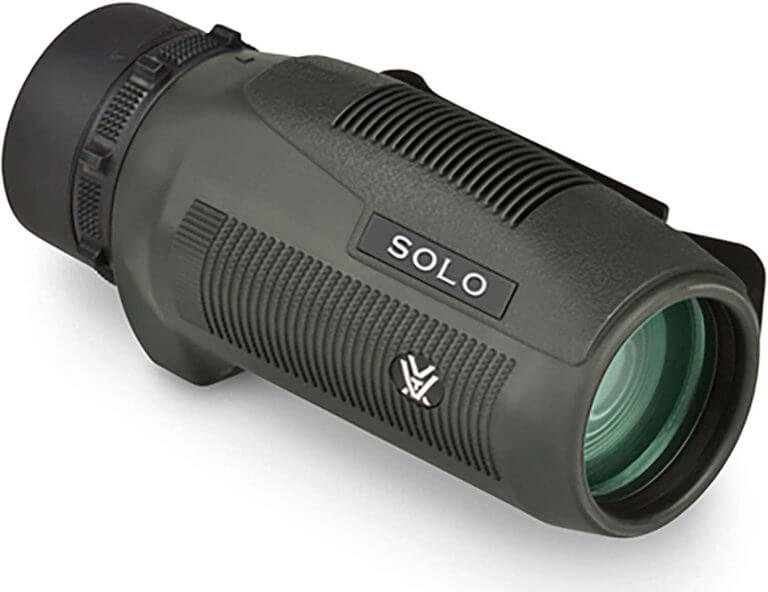 Monoculars
Monoculars are usually very compact and have a small magnification. Modern monoculars are as powerful as binoculars and have magnification power up to 12 times.
The advantage of monoculars is that they are lightweight and can be easily removed from your pocket if necessary.
Some monoculars have a digital night vision feature which may be necessary for hunters or travelers.
They can't replace binoculars because with monoculars you can see full 3d image. You look through with one eye.
This is the most important disadvantage of monoculars. They are good for quick observations and are portable.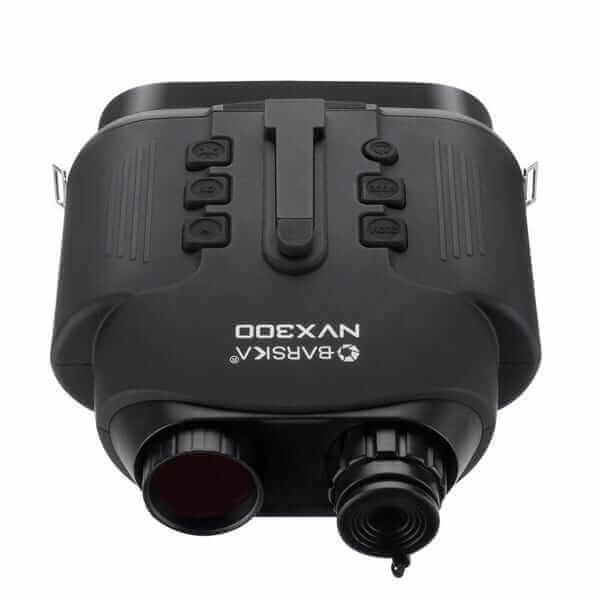 Night Vision Binoculars
Binoculars and night vision monoculars produce images using one of the methods for building an image in the dark.
Some simply magnify the amount of light collected, others collect and convert infrared light (thermal radiation) into a visible image.
They are great for night observation of animals, including when hunting. Often used for military purposes.
Rangefinder Binoculars
The rangefinder sends a laser beam, receives its reflection and measures the travel time to determine the distance.
Some binoculars have a scan mode to search for achievable targets when shooting, playing golf or hunting. They are usually not cheap but not too expensive either.
For instance, ATN BinoX-HD Smart Day is $432 with a smart rangefinder, built-in gyroscope and 1080p HD Video Recording & Photos feature.
Rangefinder binocular is a very specific optical instrument usually bought by hunters.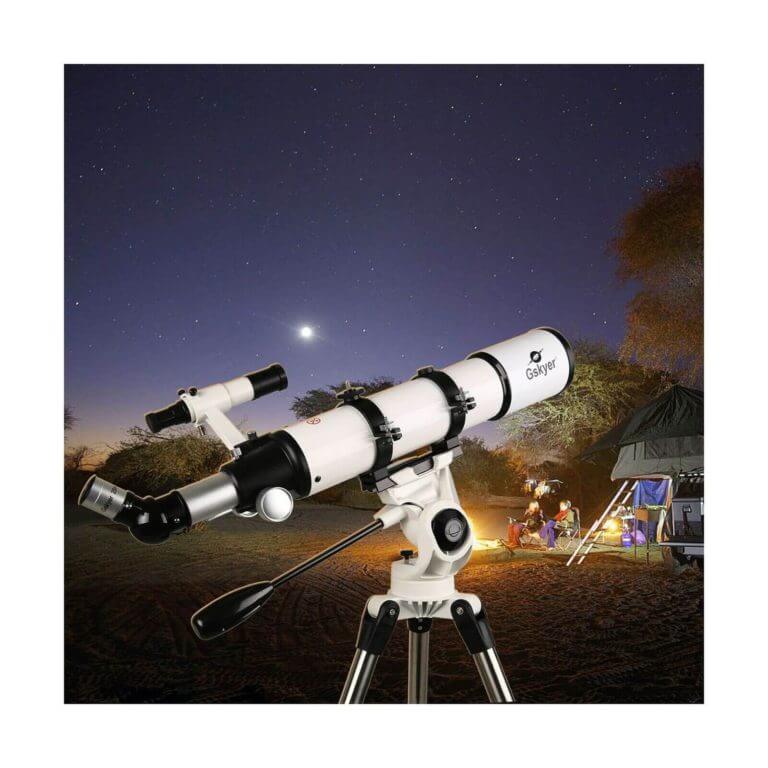 Telescopes
The telescope is like a binocular but with one barrel vs two barrels in binoculars. It's also an advanced version of a spotting scope.
Spotting scope can be used with a tripod while when it comes to a telescope, tripod is a must have tool.
As a rule, it is designed only for observing celestial objects and can have a powerful magnification, way powerful than standard binoculars.
Telescope is like a monocular but way more powerful. With a telescope you can see Saturn rings, constellations while with binoculars you can't.
Even with binoculars that have a magnification, such as 25x.
Disadvantage of a telescope is that it is not a portable device and you can't have long observation sessions because of the ability to look through it only with one eye.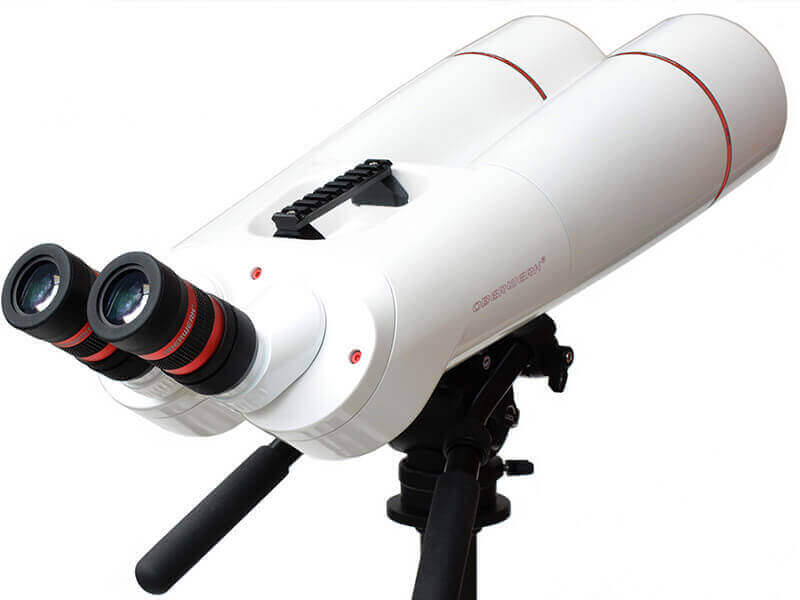 Binocular Telescope
A binocular telescope is a combination of binoculars and a telescope.
Often it has a lens diameter and magnification used in telescopes, but with two barrels so you can observe with both eyes.
Most people prefer to watch with both eyes and get a real three-dimensional (stereo) image, rather than looking through telescope, spotting scope or monocular with one eye.
Often such binoculars require a special mount or tripod, as they are really heavy.
The advantage of such binocular telescopes is that like telescopes, they have interchangeable eyepieces thanks to which you can have multiple magnifications.
Such binocular telescopes are expensive and start from $1000.
Magnification of such binocular telescope can be up to 100 times which is an ideal choice for astronomical observations at home.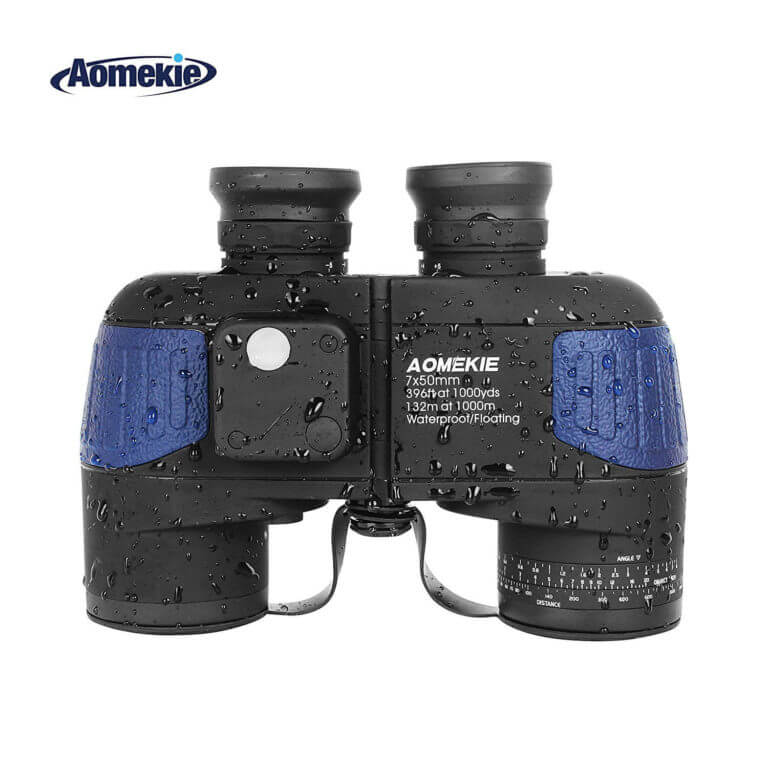 Waterproof Binoculars
Waterproof binoculars are designed mainly for hiking, nature observation, hunting, or when traveling in the sea.
They have a completely sealed body to prevent binoculars from internal fogging or water penetration.
Some binoculars may have the words "all-weather" or "water-repellent" in the description, but this does not guarantee complete protection against moisture.
Some marine binoculars can even float on the water surface if they fall into the water.
It is worth buying such binoculars if you have travel often and get into various weather conditions.
Waterproof binoculars have different levels of protection from water, 5 levels.
Level 1 – Protection from splashing water
Level 2 – Can withstand water jets
Level 3 – Can be immersed in water for a short time
Level 4 – Can be immersed in water for 30 minutes
Level 5 – Completely waterproof
Zoom Binoculars
Such binoculars make it possible to view the object at various magnifications.
If binocular has a designation like 8-25×30, it means that it has magnifications from 8 to 25 times.
The main problem with zoom binoculars is that at original magnification, in this case 8x, it will give you an image at full field of view.
As you increase the magnification power, field of view will become narrow.
However, the technology of variable magnification has not yet reached perfection, and not everyone likes such binoculars.
Because image quality in zoom binoculars is far from being perfect.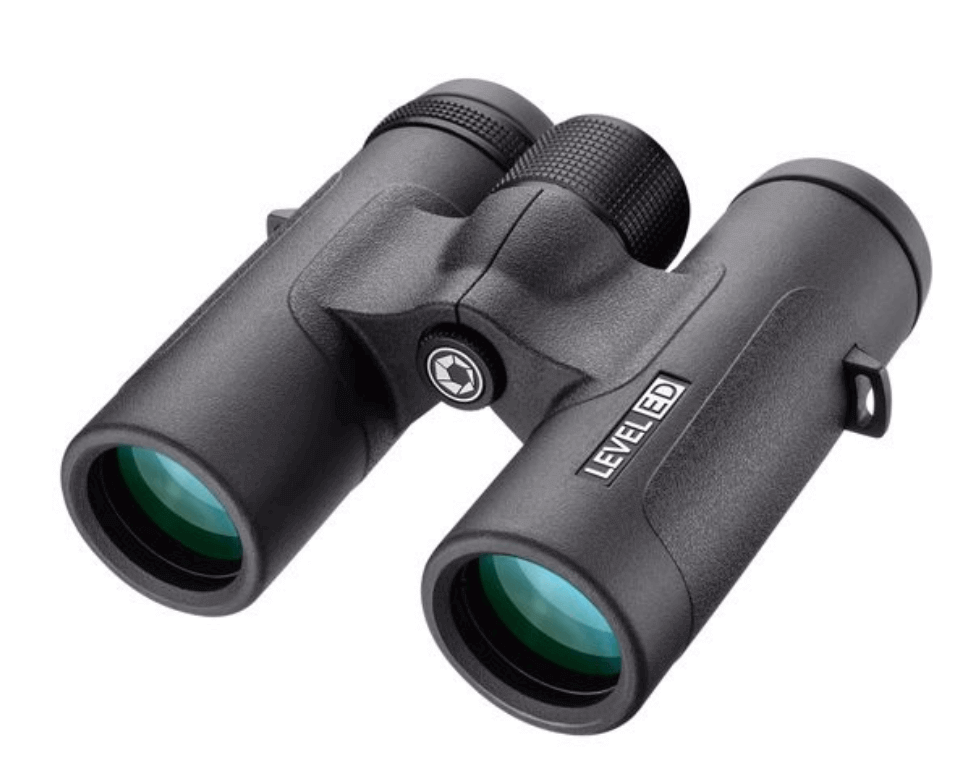 ED or HD Glass Binoculars
ED or HD Glass Binoculars are premium class optical instruments that besides BAK-4 prism have ED or HD glass thanks to which they produce sharp and crystal clear image with no chromatic aberration (color infringement).
Such binoculars are mainly designed for bird watchers or for nature observation.
Such binoculars used to be expensive but nowadays you can buy such optical instruments for around $150-$170.
Binoculars for Kids
Binoculars for kids are optical instruments designed either for fun or real observations.
There are some binoculars for children under 5 that are toys rather than optical instruments.
For children at the age of 5-8 best recommended binoculars are optical instruments with magnification 4x,6x.
For children at age of 8-11 best recommenced binoculars have magnification 7x,8x.
Cheap binoculars from unknown manufacturers are not recommended at all.
For more info read my ultimate guide for choosing binoculars for kids.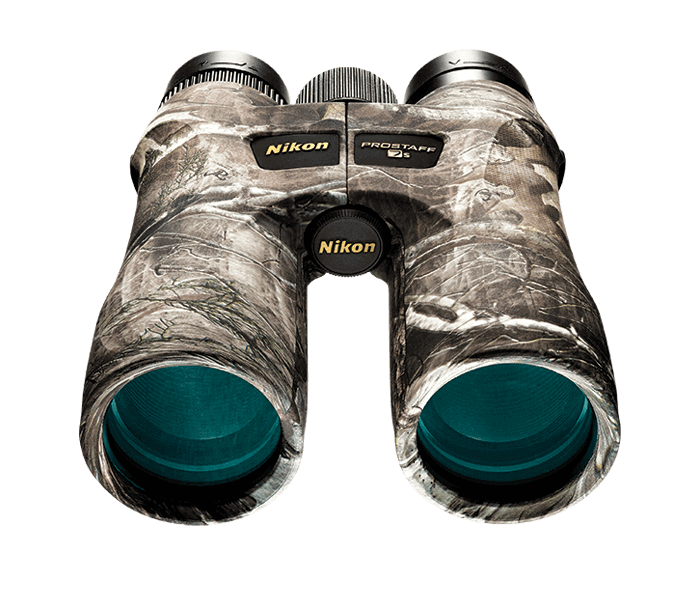 Hunting Binoculars
Hunting binoculars are professional optical instruments designed not only for hunters but for anyone wanting to get a professional optical device.
Hunting binoculars are not different from standard binoculars. In fact, any full-sized binoculars can be used for hunting.
But for some hunters it may be necessary to buy binoculars with ED or HD glass, or with compass, or rangefinder feature that allows to determine the distance to the object.
Some hunter may need floating binoculars that can stay on water surface if drop them.
For some hunters it may be important to buy binoculars with large lenses of 50mm because such binoculars can be used at dusk.
There is also a special group of binoculars with night vision feature that may be necessary for hunters.
Free Focus Binoculars
Free focus binoculars is a specific group of optical instruments mainly designed for marine purposes.
To be precise, they used to be marine but nowadays many well known manufacturers of optics produce free focus binoculars.
They are multipurpose binoculars and suitable for quick observations.
The advantage of free focus binoculars is that they don't have a diopter or central focus mechanism to adjust the vision.
They are very easy to use especially for kids or anyone wanting to get an easy to use optical device. Magnification varies form 4x to 12x.
Free focus binoculars are mainly produced by popular brand optical companies, such as Bushnell, Barska, Steiner.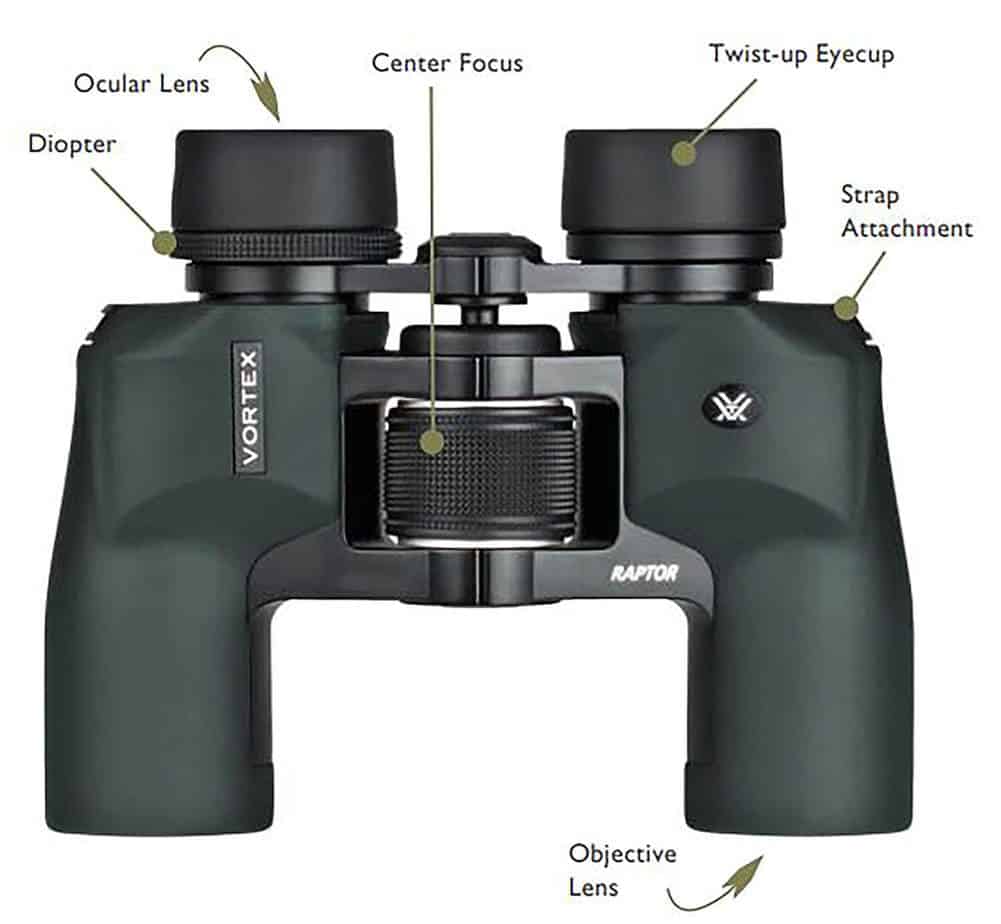 Porro Prism Binoculars
In porro prism binoculars light moves through two Z-shaped prisms to turn image 180°.
Binoculars with porro prisms tend to be larger than roof binoculars but they produce more 3 dimensional image.
Image in porro prism binoculars is more interesting and attractive than in roof binoculars.
Porro binoculars tend to be cheaper than roof optical instruments. Almost all porro binoculars are tripod adaptable.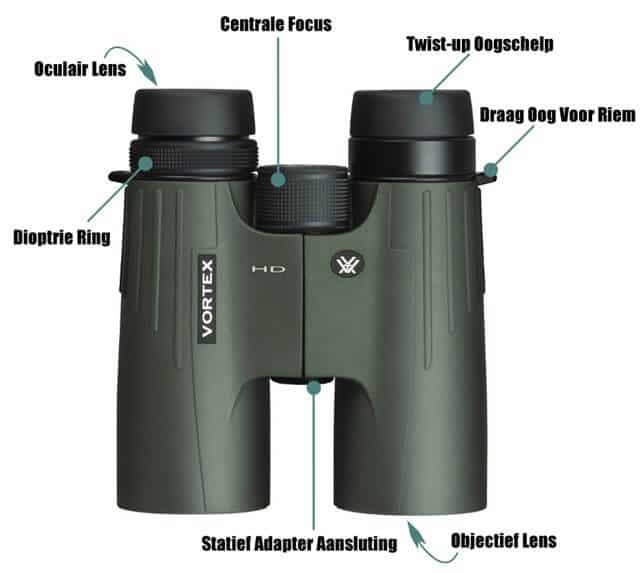 Roof Prism Binoculars
In roof binoculars light moves through back-to-back prisms to turn image 180°. Roof prism binoculars tend to be smaller and lighter than porro binoculars.
Roof binoculars are more expensive than porro binoculars, but the difference in price is not huge.
Roof binoculars are more compact and lightweight due to its prism construction.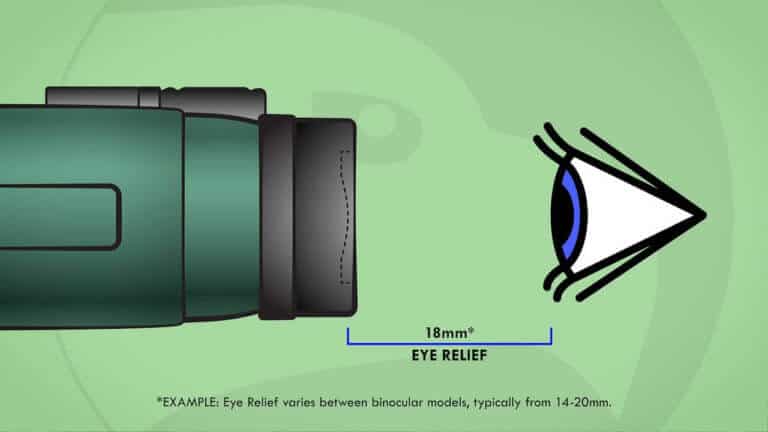 Binoculars for Eyeglass Wearers
Most of the time eyeglass wearers don't need any specific binoculars to be able to look through it. Because binoculars will correct their vision.
But some people may have serious eyesight problem like astigmatism.
In that case they need to choose specific binoculars with eye relief suitable for their eyes so they look through binoculars without taking their eyeglasses off.
The eye relief must be 15mm-18mm. 18mm is the ideal choice.
If you want to be 100% sure that your binoculars will work for you then read the specifications of the optical device you want to buy.
The eye relief should be 18mm. For more info about binoculars for eyeglass wearers read my post.
About the Author: Adam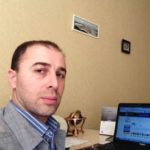 We review and recommend quality binoculars so you don't waste your money on useless ones.