Binoculars are very popular optical instruments especially today after long home confinement due to pandemic.
I believe walking around and observing nature and animals is even more important now.
Observing nature and interesting objects is way more interesting with optical instruments like binoculars.
To enjoy the process you need to choose an optical instrument that would meet most of your needs for the best experience.
Because no one wants to waste their money and buy a device that they will not use that will gather dust only.
Though binoculars may seem as a simple optical device in fact, it's a bit different.
Most newbies when buying their first binoculars choose the wrong device.
In this short article I will try to explain how to avoid 7 biggest mistakes when choosing binoculars.
Mistake 1 – Avoid cheap binoculars
When you plan to choose binoculars it's highly recommended to allocate some budget for it to buy an optical device that you will like and use for years.
I know firsthand that choosing binoculars is not easy because of the wide selection of optical instruments available on the market.
As a newbie you can think that all binoculars are good but in fact it's far from reality.
Of course, it's totally understandable that most people want to get the best binoculars in the world and at the lowest price possible but unfortunately, it's impossible.
You get what you pay for. So, from my experience I wouldn't advise buying cheap binoculars. You can read my research here for a complete answer.
In short, I will try to explain it as follows. I always prefer brand binoculars over non brand cheap optical instruments from unknown Chinese manufacturers.
Because cheap binoculars are made of cheap materials and you get a low quality product.
Overall construction is not so good, optical parts are cheap and image is not as bright and clear as you would expect.
Of course, you can maybe find cheap binoculars with a good image quality but the overall quality of such binoculars will not be good.
It can break easily after one drop. I always recommend to pay extra $30-$50 and choose brand optical instrument from a well known manufacturer of optical devices.
I would recommend to start at least from $100 to get good quality optical instrument.
The higher the price the better will be the quality but $100 price point would be a minimum in my opinion.
Mistake 2 – Avoid high power binoculars
When choosing binoculars especially beginners try to choose the most powerful set of binoculars which is a big mistake.
High magnification doesn't necessarily mean you will get a good device.
High power binoculars are designed for specific needs mainly for astronomical observations or for terrestrial observations of distant objects.
Powerful binoculars with magnification 15 and above have large objective lenses 56, 60, 70, 100 mm which makes such binoculars bulky.
Such binoculars cause image shake, narrow field of view and not so bright and clear image quality because of the magnification power.
Such binoculars are used with tripods only. Binoculars with magnification 10 are the most universal optical instruments convenient for almost all kinds of observations.
Such binoculars are pretty powerful, have a wide field of view and moderately stable image. You can take such binoculars even when traveling.
They are lightweight and moderately compact. High power binoculars are bulky and not so comfortable to use. They are for specific purpose only.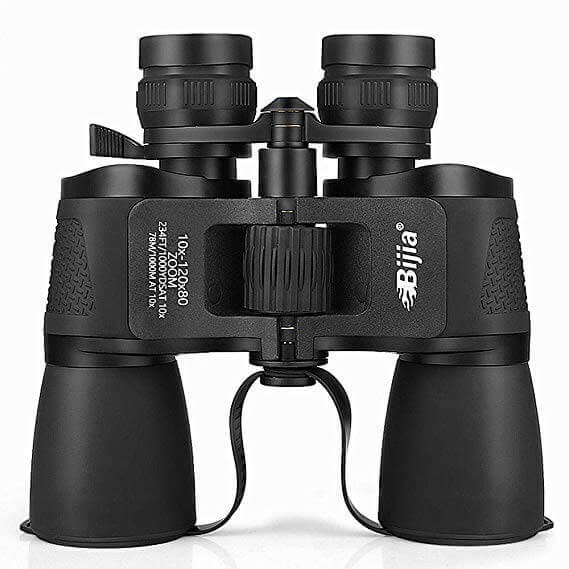 Mistake 3 – Avoid zoom binoculars
Very often beginners prefer to buy zoom binoculars that have super powerful magnification and this is a big mistake.
Zoom binoculars can be divided into two groups. One with acceptable image quality from brand companies and second with awful quality from unknown manufacturers.
You should avoid second group completely. When it comes to the first group you can buy it if you really need super powerful magnification for some specific needs, such as astronomical observations or for distant objects.
Even in this case you must understand that zoom binoculars produce poor image quality due to adjustable magnification system.
This system can't produce excellent image quality because the system itself is far from being perfect.
You have to either accept it and buy or avoid completely. Such binoculars are bulky, have bad image quality and narrow field of view.
If you plan to buy your first set of binoculars it's highly recommended to avoid zoom binoculars altogether.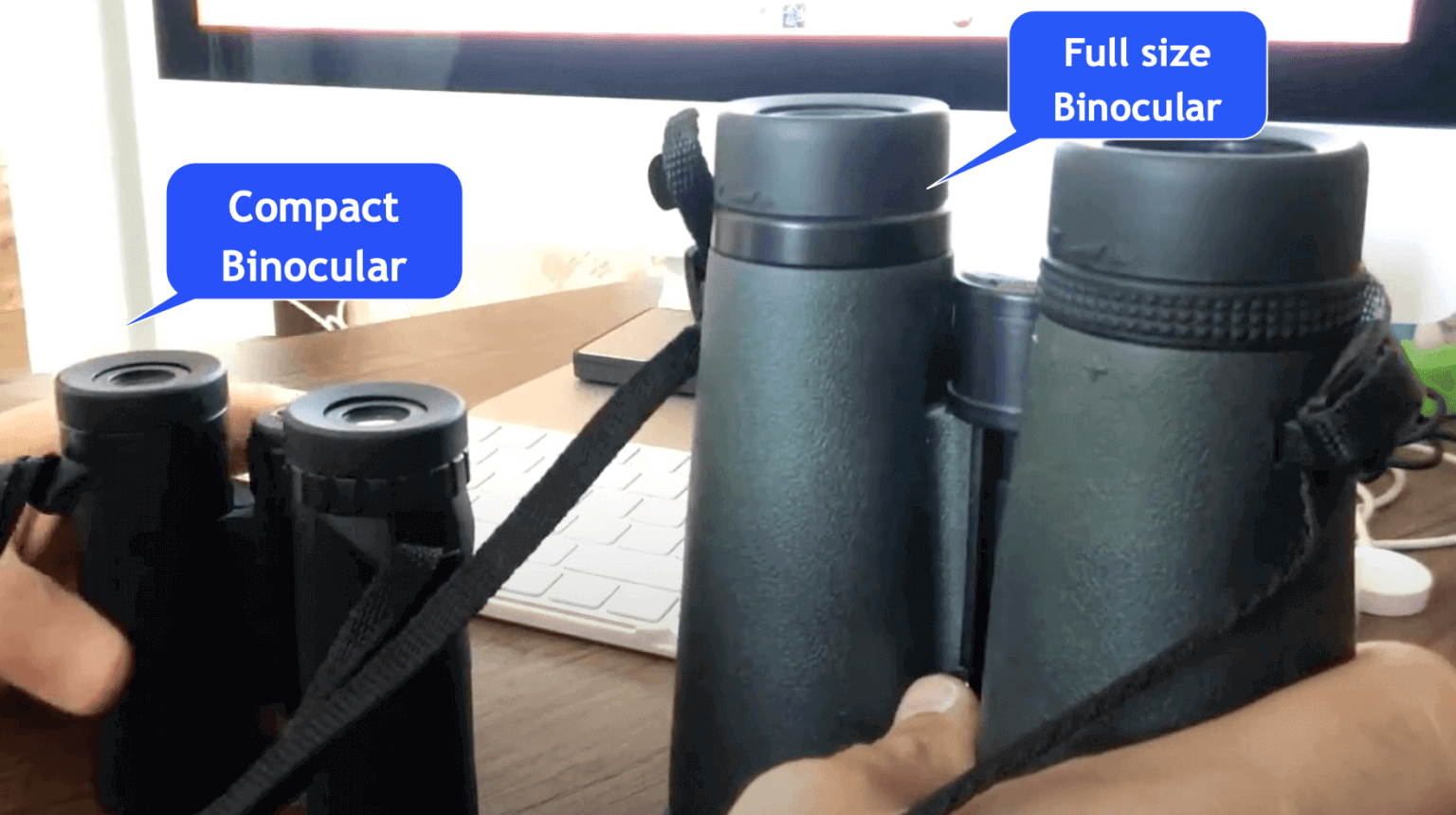 Mistake 4 – Avoid compact binoculars
Compact binoculars are not bad but have to be used only for specific purposes, such as stadiums, theatre, concerts, when traveling.
Many people prefer to buy compact binoculars thinking they are super compact and easy to carry. The reality is quite different.
As I said, compact binoculars are absolutely great optical instruments but you must exactly know when to buy them and when to avoid.
The biggest advantage of compact binoculars is that they are super lightweight and image is stable.
But compact binoculars with objective lens size of 25mm and less have exit pupils of 3mm which doesn't fit human eye well.
Such binoculars are excellent optical instruments for short viewing sessions only.
For long sessions you better buy full size binoculars with objective lens of at least 40-42mm that have exit pupil size 4.2mm.
Such binoculars fit adult human eye properly. If you plan to buy binoculars for general use purposes I highly recommend to buy full-size binoculars.
If you plan to buy compact binoculars start with objective lens of at least 30-32mm. All other super compact optical devices are suitable only for specific purposes.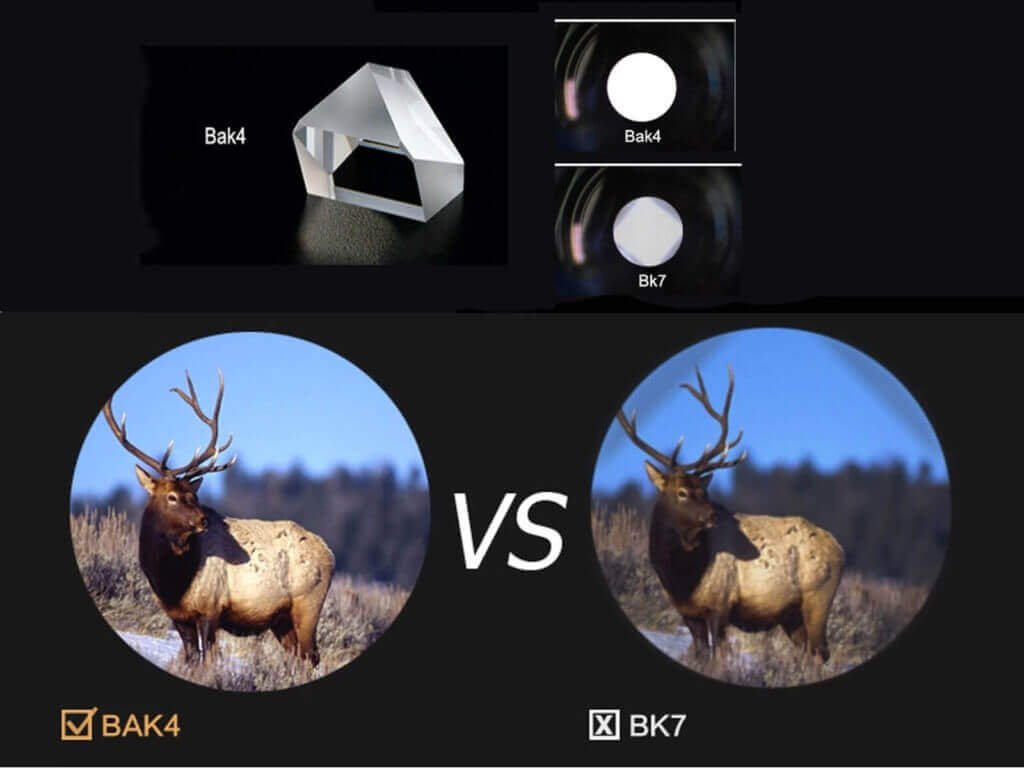 Mistake 5 – Avoid BK-7 prism binoculars
Prism quality is the most important part of any binocular and when you buy an optical instrument you need to allocate some budget for a good purchase.
Image quality is important in binoculars and you can't deny it. I highly recommend to choose binoculars with BAK-4 prism that produce good image quality.
BK-7 is normally installed in cheap binoculars. Image quality is such binoculars is not so good. It's acceptable, it's no so terrible.
But if you try two binoculars, one with BAK-4 and another with BK-7 prism, you won't want to buy BK-7. The difference in the image quality is significant.
That's why if you plan to buy your very first set of binoculars, I highly recommend to avoid BK-7 prism optical instruments. On the image you can see the difference.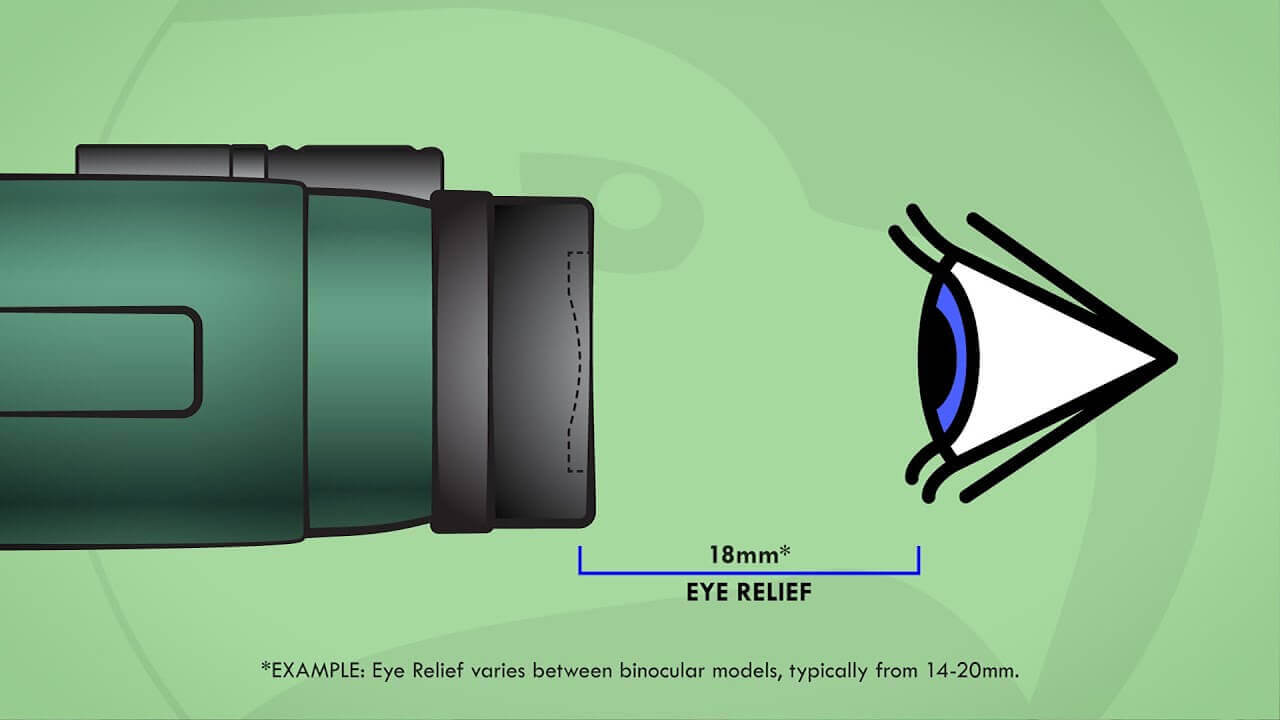 Mistake 6 – Avoid binoculars not suitable for glass wearers
When you plan to buy binoculars, you need to pay attention to the eye relief feature.
Not paying attention to this feature is a common mistake most beginners do.
Eye relief is a distance between your eye and binocular's exit pupil.
For good image quality and positive experience manufactures produce binoculars with adjustable eye-cups so you can adjust it to your eyes.
If you don't pay attention to this feature when buying binoculars and you have some problems with your eyesight, you may be disappointed.

As a result, you will see only a portion of the field when looking through your optical device.
For most people eye relief feature is not so important because binoculars optics will compensate the difference.
But if you have astigmatism you need to choose binoculars with eye relief of at least 17-18mm.
When choosing binoculars, check specifications of an optical device.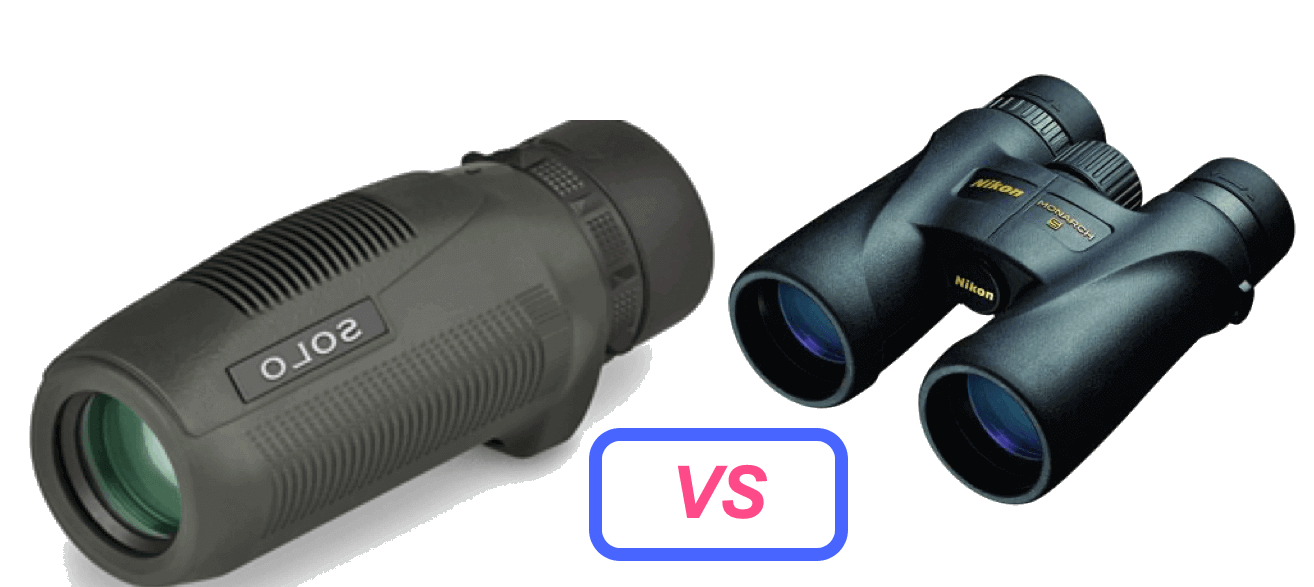 Mistake 7 – Avoid monocular
If you plan to buy a monocular and think it will replace standard binoculars, I recommend to avoid it.
Because monocular can't deliver the same level of comfort that binoculars do.
Monocular has a narrow field of view and it is not suitable for long sessions. It's not natural for a human eye to observe the world with one eye.
That's why if you plan to buy your very first set of binoculars, I recommend to avoid buying monocular.
Mistake 8 – Avoid binoculars with a digital camera
Avoid buying binoculars with digital camera. It's a new and attractive technology and you can make a quick photo of what you plan to observe. The idea is good.
But you must understand that it's not a high-end digital camera. First of all, you buy binoculars, not digital camera.
If you realize that quality of photos will be poor, you can buy binoculars with digital camera.
If you plan to buy a device that will cost you around $1.000 or even more, you will get a good, high quality product. Otherwise, avoid them.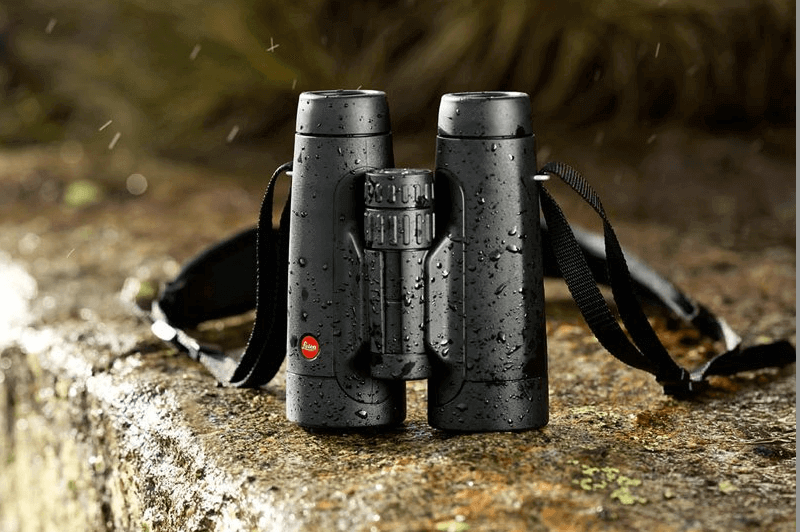 Mistake 9 – Avoid poorly protected binoculars 
If you plan to use binoculars when hunting, hiking or sailing, it's highly recommended to choose binoculars with a high level of protection, such as waterproof, fog-proof, shockproof features.
Some binoculars even have a floating feature which means if you drop your optical instrument it will not sink.
Shockproof feature will protect your binoculars from accidental drops when traveling or hunting.
These features may not be important for everyone to pay for additional features.
If you belong to those groups of people mentioned above then buy well protected binoculars.
Don't make a mistake of buying binoculars that will break after one accidental drop.
About the Author: Adam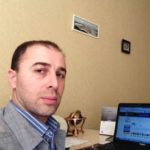 We review and recommend quality binoculars so you don't waste your money on useless ones.