I own many different binoculars from various brands. Each binocular performs differently and has its own advantages over others.
It's almost impossible to buy every binocular available on the market in order to review it.
But I do my best to buy a new optical instrument as often as I can to see how it performs.
This time I want to review Nikon Action EX 10×50 which is very popular optical instrument.
It's a classic porro prism binocular and in my opinion very interesting optical device.
Nikon Action EX 10×50 is very different from cheap Chinese binoculars.
Though it's not cheap, it is reasonably priced and has high-quality optics.
I believe most people can afford it.
Nikon Action EX 10×50 leaves an impression of an optical instrument that delivers sharp and high contrast image.
With such optical instrument you can observe all kinds of forest and field animals, sea or terrestrial objects.
The binocular is highly durable, so you don't have to worry about any parts of the optical instrument to break easily.
Many people prefer to buy cheap binoculars from China thinking there is no difference between brand and non brand optical instruments.
They don't realize that the difference is huge. Brand binoculars almost always outperform Chinese binoculars and the same applies to Nikon brand.
It's one of the best brand binoculars available on the market.
Nikon Action EX Extreme 10×50 Specifications:

– Magnification 10x
– Objective Lens 50 mm
– Angle of View 6.5°
– Minimum Focus Distance 7 m
– Exit Pupil Diameter 5 mm
– Eye Relief 17.2 mm (suitable for eyeglass wearers)
– Free focus No
– Fogproof Yes
– Nitrogen Filled Yes
– Waterproof Yes
– Weight 1020.6 g
– Price: $176.95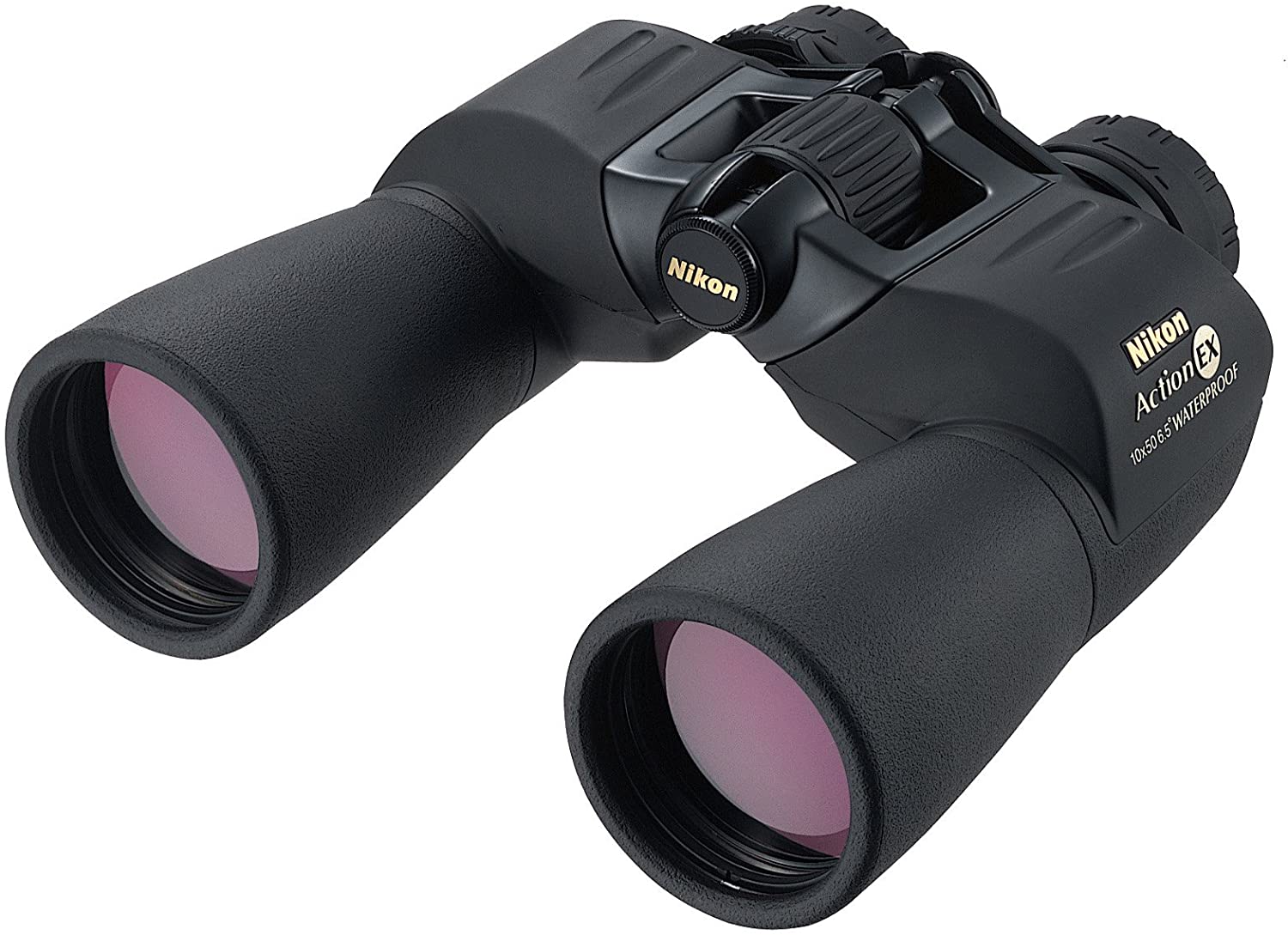 Short Review of Nikon Action EX Extreme 10×50
Inexpensive, universal, full-size binoculars on porro prism with high quality optics, Nikon Action EX Extreme 10×50 is one of the top binoculars I can recommend.
It's not the best optical instrument in the world. There are binoculars that definitely outperform Nikon Action EX 10×50 in all respects.
But the price will be much higher too.
Nikon Action Extreme 10×50 is a truly multi-purpose binocular with a wide field of view.
It's not like cheap Chinese binoculars with a narrow field of view and some other underperforming features.
Nikon Action Extreme 10×50 is a waterproof and fogproof in order to avoid condensation on the inner surfaces of the lenses during temperature change, especially when you enter your heated house after cold weather outside.
Nikon Action Extreme 10×50 is one of those binoculars that satisfy these and many other requirements for those looking for an excellent set of optical instrument at an affordable price.
Nikon Action Extreme 10×50 Package
The set includes binoculars, a case, neck strap, lens covers and standard warranty paper and instructions translated into different languages.
The binocular case is made of high quality fabric designed to protect the binoculars from harsh reality and has a company logo on it.
The binoculars fit comfortably inside the case.
Unfortunately, the case does not have its own shoulder strap. it is supposed to be worn around the neck with binoculars itself or attached to your belt.
Both options, in my opinion, are not very successful, but this is better than nothing.
The binocular looks really impressive and beautifully designed with a good looking, solid neck strap with Nikon logo on it.
It is very convenient that the binocular is equipped with eyepiece and lens caps that protect optical parts from possible damage.
Nikon Action EX 10×50 Pros
– Nikon Eco-Glass quality
– BAK-4 Porro Prisms
– Fully Multi-Coated Optics
– Wide Angle of View 6.5 degrees
– Water and Fogproof
– Submersible to 1m for 5 Minutes
– Tripod Mountable
– Twist-Up Rubber Eyecups
– Wide Exit Pupil
– Suitable for eyeglass wearers
– Suitable for traveling, safari, astronomical observations, nature observations, for any outdoor activity
Nikon Action EX 10×50 Cons
– Not suitable for stadiums
– Not suitable for children
– A little bit heavy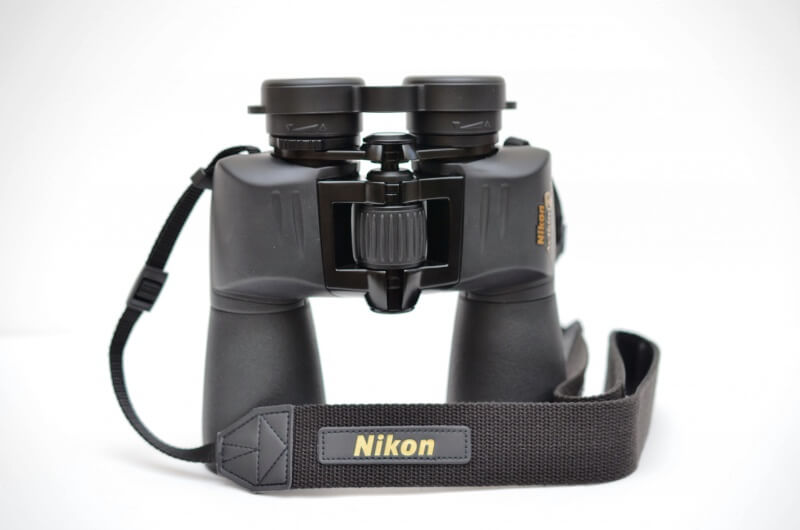 Nikon Action Extreme 10×50 Durability and Ease of Use
The binocular's body is rubberized, the mechanics are well made. Central focus knob, diopter and barrels' moving mechanism gives the impression of a very reliable optical instrument.
Nikon Action EX 10×50 is not afraid of accident drops or any damage as described but time will tell how much this impression is close to reality.
Anyway, the manufacturer gives a 10-year guarantee on this binoculars.
Focusing central mechanism with diopter adjustment for the right eye is very easy to use when observing birds, because it makes it easy to keep the object of observation in focus.
Eyepieces are retractable and have 3 lockable positions.
For extreme conditions you need a reliable and well-protected binoculars. Any hunter, fisherman, traveler wants to own such a binocular.
It is for such situations that Nikon has developed a line of Action EX binoculars – devices designed for active people who travel with their binoculars without any fear to damage it.
In addition to a wide field of view and high-quality optics, this line is characterized by a particularly robust design that protects all mechanisms and optics from dust and moisture. And this is not only protection from fog or rain.
Nitrogen filling will protect Nikon from any kind of moisture.
The body of Nikon Action EX 10×50 model, even after 5 minutes spent under water at a depth of 1 meter, will not let a single drop of water inside the binoculars!

Nikon Action Extreme 10×50 Review
Nikon 10×50 binoculars, (magnification power 10 times), with a lens diameter of 50mm, which gives a 50/10 = 5mm exit pupil diameter in the eyepiece and makes the binoculars' image extremely bright, clear and sharp.
It can used anywhere, even including astronomical observations.
The weight of the binoculars is slightly more than a kilogram, but this only gives it stability during holding and can reduce hand tremor during observations.
Weight aspect is arguable in my opinion. Some users are of a different opinion.
As someone who owns different types of binoculars, I can say binoculars with magnification up to 10 and lens diameter up to 42mm are moderately lightweight and don't cause hand tremor to the point when binocular's weight becomes an issue for you as a user.
Of course, image is not as stable as when holding binoculars with magnification 8 with lens diameter up to 30mm that are considered compact optical instruments.
I think when it comes to image stability and ease of use, Nikon Action EX 10×50 is not perfect and not the worst one. I prefer lens diameter up to 42mm.
For example, 10×42 binoculars are the most purchased optical instruments.
They are considered full-size binoculars, deliver bright and clear image and image stability is good.
Magnification Power
When it comes to the magnification power of Nikon Action EX 10×50 I consider this magnification optimal for universal use.
Of course, this is not wide-angle binoculars with magnification 7 or 8, but compared to them, Nikon Action EX 10×50 is just the increase when you can take a closer look at the object of observation without losing much of the viewing area and at the same time it's still convenient to look through binoculars holding it in your hands for quite a long time without resorting to the help of a tripod.
By the way, mounting Nikon on a tripod is also possible. A special L-adapter is required for mounting which is not expensive at all. You can buy for around $10.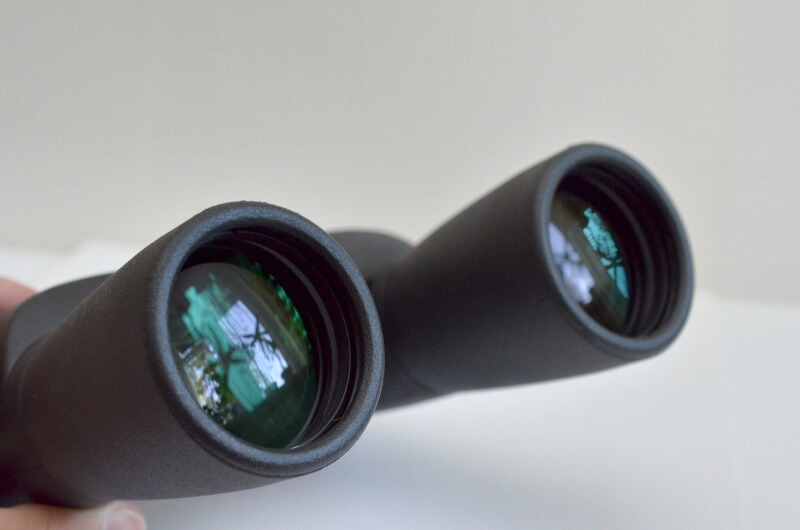 Image Quality
The image produced by Nikon Action EX 10×50 is really impressive. Nikon has multi-coated optics with a green tint on the lenses.
With porro prism, you can see a realistic and three-dimensional image.
Nikon has a sharp and high contrasting image thanks to antireflective aspherical lenses with a pleasant neutral, slightly warm color reproduction, but since the binoculars belong to inexpensive models, the device is not without drawbacks: there is a drop in sharpness at the border of the field of view and chromatic aberrations at the borders of the image.
For example, in some binoculars the image has a yellowish tone which makes these drawbacks not so noticeable.
In Nikon you see those drawbacks but overall they are not critical.
You have to really look through binoculars very carefully to notice chromatic aberration.
In fact, chromatic aberration can be seen in any binocular without ED glass. I notice it in my binoculars sometimes but I really don't care about it.
It can be critical only if you plan to buy binoculars for bird watching.
Thanks to using in Nikon Action EX 10×50 special porro prisms, users can differentiate the distance between different objects when looking through binoculars.
Only porro prism optical devices can deliver such an image quality and depth of view.
Nikon Action EX 10×50 is Suitable For:
Nikon Action EX 10×50 WP model – This line is designed for active lovers of hunting, fishing, sports, travel.
This binoculars cannot be called particularly lightweight and compact – it weighs about one kilogram, but its big aperture (wide field of view), magnification power, bright and depth image thanks to porro prism covers all drawbacks of Nikon Action EX 10×50.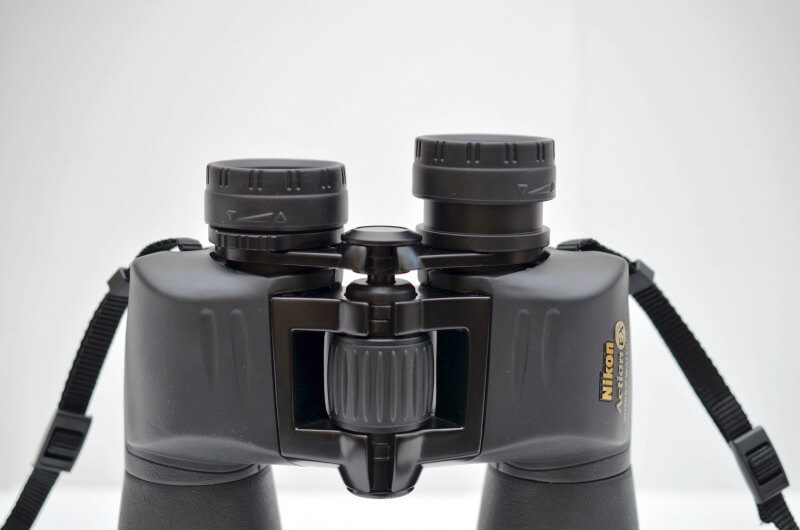 Main Features of Nikon Action EX 10×50:
Water resistance up to 1 meter for 5 minutes
Protection against fogging (provided by nitrogen filling)
Aspherical lenses
Special design of the eyepieces (provides the best visibility of the entire field of view, even for those who wear glasses)
Special rubber rotatable-retractable eyecups made of silicone rubber with several fixed positions (aligns the field of view)
Wide field of view
Multilayer anti-reflection coating of the lenses (provides brightness and clarity of the image)
Rubber coating of the body (provides protection against shock, guarantees ease of grip)
Lens and prism material: Eco-glass quality from Nikon
Tripod adaptable (sold separately)
True color reproduction thanks to BAK-4 prism and Nikon Eco glass quality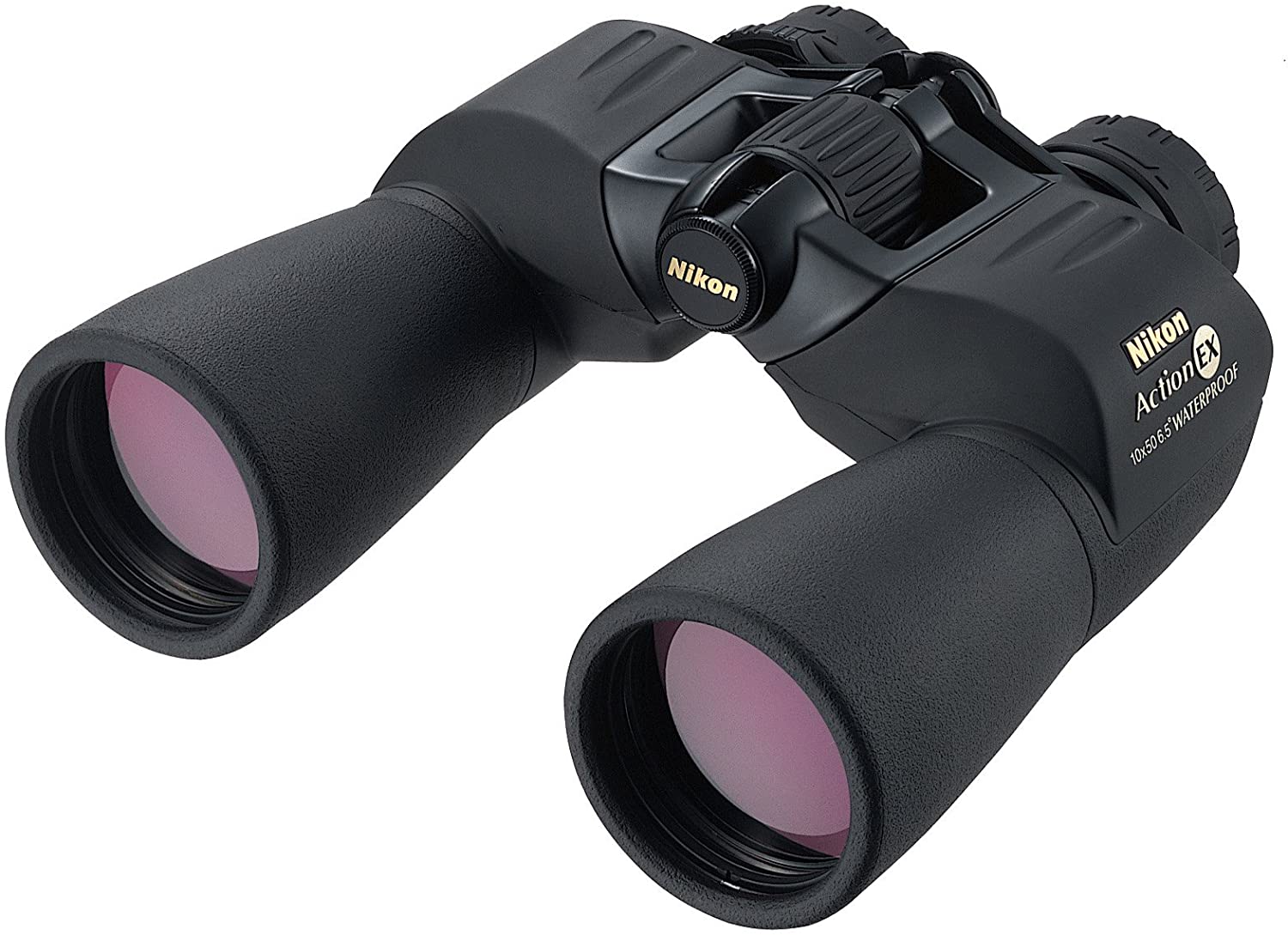 What Others Say About Nikon Action Extreme 10×50
Aside from my personal opinion, I also decided to do some research to see what others say about Nikon Action EX 10×50 in order to help you make the most correct decision.
This will help you avoid surfing the internet for hours.
The info will be provided as a list of opinions and arguments in favor or against Nikon Action EX 10×50.
Most users of this binoculars say:
Nikon Action EX 10×50 is a great optical instrument with a sharp focus, bright image but a little heavy binocular.
Easy focus adjustment, wide field of view
Suitable for eyeglass wearers
Very well made binocular with a nice eye relief
Good image depth and sharp focus and accurate colors
Wide exit pupil and field of view
Moderately stable image
May be difficult to use for extended periods of time because of its weight (tripod required)
Both the eye piece and lens covers are hard to insert/remove
The focus mechanism is not super smooth (some force required to rotate the focus knob)
There is no image distortion even on the edges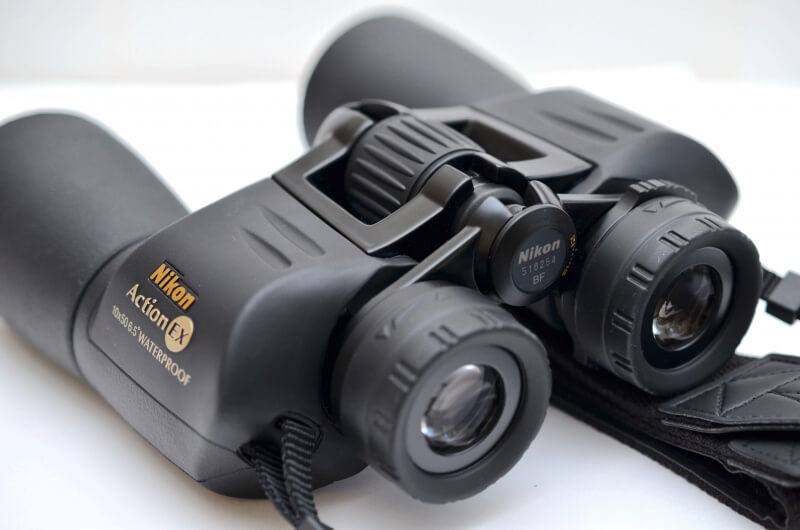 Optical Performance of Nikon Action EX 10×50
Powerful 10x magnification convenient for different types of observations
Large 50mm objective lenses provide perfect experience even in low light conditions
Perfect hand grisp thanks to a traditional porro prism
Excellent depth of view thanks to porro prisms
Insignificant edge distortion of the image thanks to high-index BAK-4 prisms
Very bright image thanks to Large 50mm objective lenses
Alternatives to Nikon Action EX 10×50
Though Nikon is a very well known brand in the world, it's not the only bran that's manufactures high quality optical multi-purpose instruments.
Levenhuk is an American manufacturer of high quality optical devices and has a special line of binoculars known as Levenhuk Sherman Pro.
Levenhuk delivers almost the same level of quality when it comes to porro prism binoculars.
Below you can see my top recommended Levenhuk binoculars Levenhuk Sherman Pro on porro prism as an alternative to Nikon Action EX Extreme 10×50.
Levenhuk is cheaper than Nikon but delivers almost the same quality in terms of durability, ease of use, design and overall quality of the optical performance.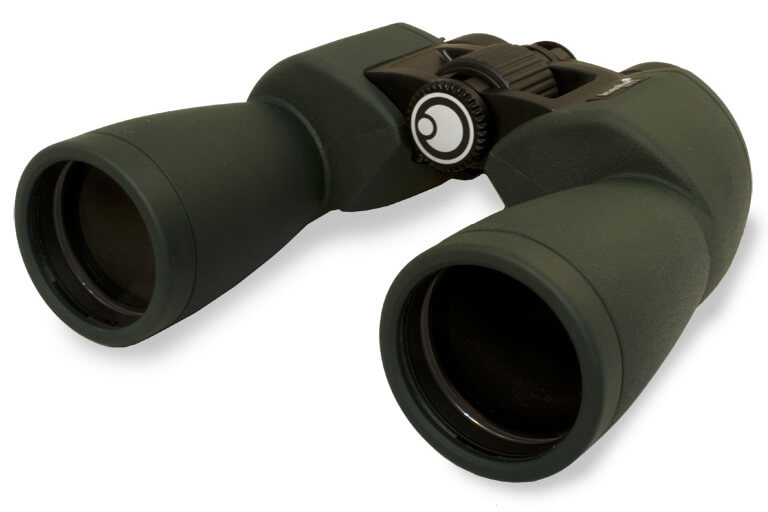 Suitable for eyeglass wearers
Fully Multi-Coated Optics
Suitable for eyeglass wearers

Fully Multi-Coated Optics
Nikon Action EX 10×50 Warranty
Moat products purchased from Nikon can be returned for exchange or refund.
Defective optical device will be refunded within 14 days of the purchase.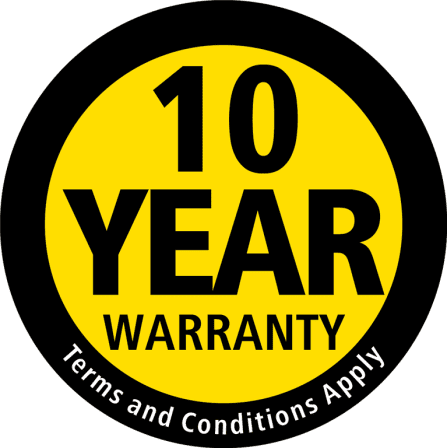 Overall Quality and Satisfaction
Nikon Action EX 10×50 is an excellent binocular with a classic porro prism that most users will love for its durability and excellent quality of optics.
An overwhelming majority of users are happy with the product and would recommend it to their friends.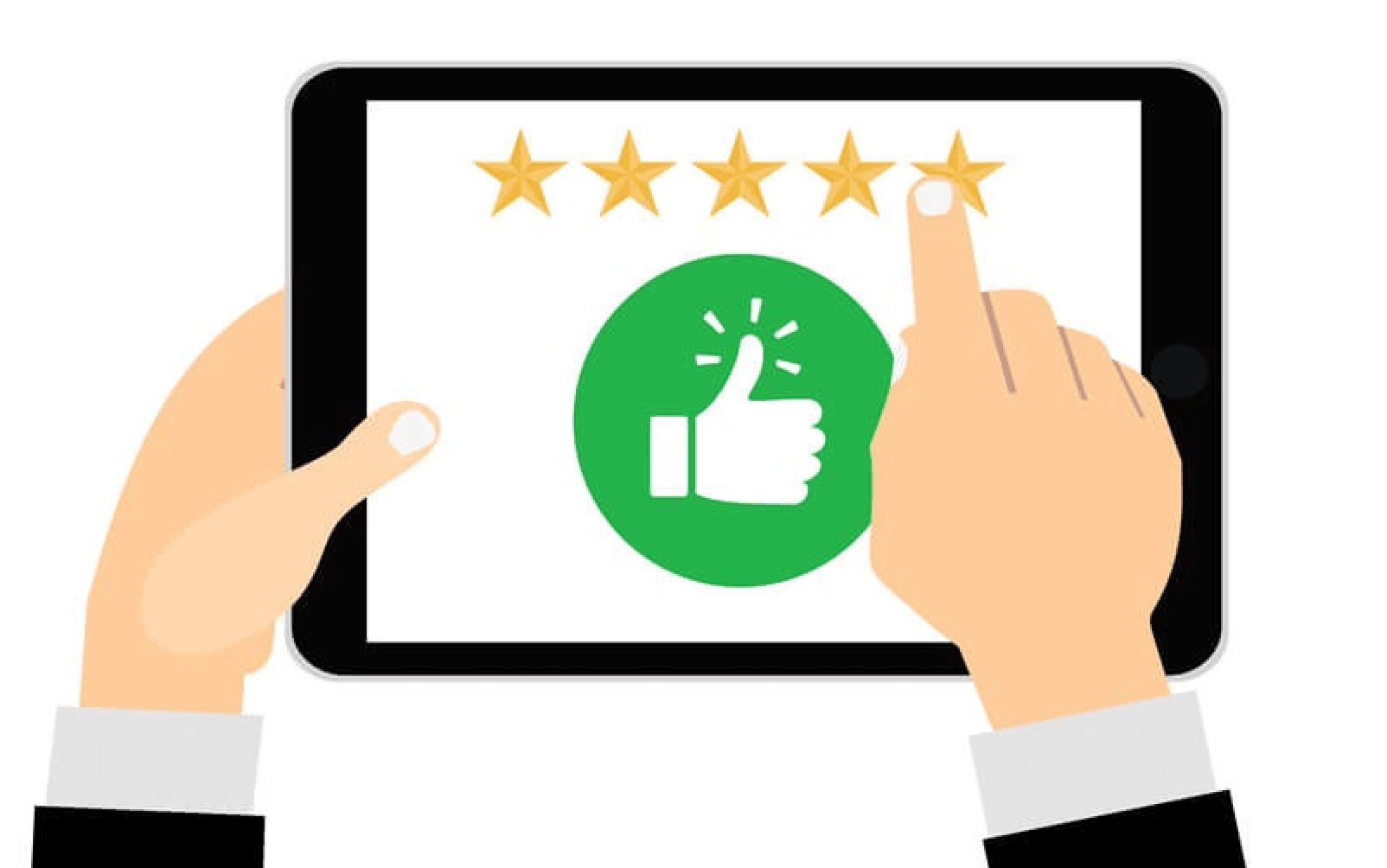 About the Author: Adam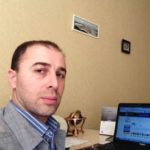 We review and recommend quality binoculars so you don't waste your money on useless ones.